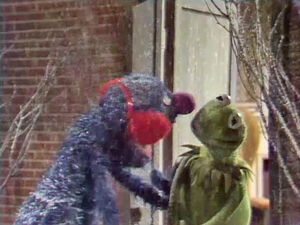 The Count gets carried away counting containers of milk, and ends up buying too much. He doesn't know what to do with all the milk that he's bought.
A cow talks about milk and how it's made.
Big Bird discovers that some people are bilingual.
Kermit at Home: Grover is outside in the snow, freezing. He keeps knocking on Kermit's door, asking how to get warm, and Kermit keeps telling him to come inside. Grover, missing the point, tries ideas of his own to get warm, but they don't work. Finally, Kermit tells Grover that if he wants to get warm, he should come inside. Excited, Grover pulls Kermit aside and slams the door, locking Kermit outside. Grover goes to sleep in Kermit's armchair while the frozen frog scrapes at the window. (EKA: Episode 0598)
Cartoon: The story of Aesop's "The Lion and the Mouse."