Sesame Street
Plot
Buffy invites her friends to visit her in Hawaii
Air date
December 26, 1977
Season
Season 9 (1977-1978)
Sponsors
T, V, 4

This episode guide has been compiled from materials at the CTW Archives.

ⓘ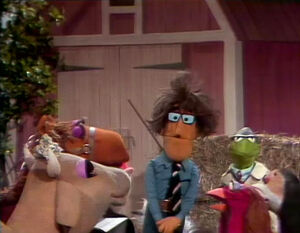 The Sesame Street neighbors decide how they're going to get to Hawaii.
Ernie & Bert — While Ernie looks after Hooper's Store, Bert asks him for something to drink. Ernie starts out with a glass of unflavored soda water, tastes it, and decides it's too dull for his ol' buddy Bert. To Bert's dismay, Ernie then adds some strawberry syrup to the soda water, then a scoop of ice cream, and finally some whipped cream. Now it's an ice cream soda, which Bert doesn't want... but Ernie does. (EKA: Episode 0699)
Oscar the Grouch doesn't want to go to Hawaii, until Olivia tells him that there's a lot of mud and volcanic rock on the island.
Bob asks a blank-faced Large Lavender Live Hand Anything Muppet how he feels. The Muppet answers, "I don't feel anything." Bob sticks a nose and angry eyes on the Muppet, who then starts to feel mad. He walks off in a huff, and we hear a crash off-screen. The Muppet comes back and ad-libs, "It's okay, Bob, I just dropped my watch!" (EKA: Episode 0778)
A street fair is organized to raise money for the Hawaii trip; everyone cooperates to make it a success.
Film: A baker makes a birthday cake.
A film about women who repair phones for the telephone company. (EKA: Episode 0840)
Oscar contributes to the Hawaii fund.
Maria writes to Buffy to tell them about the street fair on Sesame Street, and their plans to go to Hawaii.