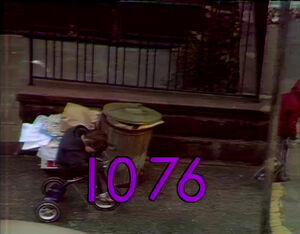 Picture
Segment
Description

SCENE 1
Maria calls everyone over to see a parcel sent from Hawaii from Buffy. Inside are pictures of young Cody and a letter inviting them to come visit her. While some of the adults have work, Maria, Bob, Olivia and Mr. Hooper consider making the trip, until they realize how costly it would be.

Cartoon
I've Got a Mind: Bird
Artist: Cliff Roberts
(First: Episode 0269)

Film
Four Song (Song of Four)
(First: Episode 0006)




SCENE 2
Big Bird finds everyone sulking in Hooper's Store. He learns about the trip and wants in, thinking they can simply walk, take the bus or drive Gordon's car to Hawaii. Olivia points it out on globe, showing him the only way they can get there is by airplane. Big Bird offers to sell some of his birdseed to help cover the cost, inspiring everyone to think of ways they can make some quick cash. Olivia phones the airline to find out how much their trip would cost. Everyone balks when Big Bird asks how much it would cost to bring Mr. Snuffleupagus along.

Muppets
A greaser sings about his relationship that was almost ruined by a "One Way" sign.
(First: Episode 0973)

Film
The letter T is a very useful letter.
(First: Episode 0402)

Muppets
Ernie & Bert — While Ernie looks after Hooper's Store, Bert asks him for something to drink. Ernie starts out with a glass of unflavored soda water, tastes it, and decides it's too dull for his ol' buddy Bert. To Bert's dismay, Ernie then adds some strawberry syrup to the soda water, then a scoop of ice cream, and finally, some whipped cream. Now it's an ice cream soda, which Bert doesn't want... but Ernie does.
(First: Episode 0539)

Film
Counting 20 boxes
Music: Joe Raposo
(First: Episode 0510)

SCENE 3
Olivia invites Oscar on the trip, but he's dissuaded by all the pretty landscapes until she informs him of all the volcanic rock and mud. He immediately starts packing.

Cartoon
T for typewriter and toe
Artist: John Korty
(First: Episode 0506)

Film
T is for toes.
(First: Episode 0506)

Muppets / Cast
A blank Anything Muppet approaches Bob, not feeling anything at the moment. Bob changes his feelings by giving him various new facial features.
(First: Episode 0662)

Film
Footage of a leopard in the plain.
(First: Episode 0364)




SCENE 4
Everyone on the block holds a street fair to raise money for their trip to Hawaii. Bob checks around to see what's going on - Luis and David run a taco stand, Maria sells old appliances, Mr. Hooper sells toys and books, and Susan and Gordon sell balloons.

SCENE 4 cont'd
Big Bird sets up a birdseed stand in the arbor. Bob doesn't think there's a huge demand for birdseed in the area, when a flock of birds fly through and buy all of Big Bird's stock. The adults help him collect and count the money he's made.

SCENE 4 cont'd
Down the block, Olivia takes photos for fifty cents a pop. Bob and Linda take a nice couples' photo. Maria and David take a sillier one where they flex their muscles.

SCENE 4 cont'd
Elsewhere at the fair, Pete Seeger wants to learn a song from Linda's "Learn To Talk With Your Hands" set up. She and Bob teach him to sign the words to the "Hello Song."

Cartoon
T is for Television (shown in English, then Spanish)
(First: Episode 0024)

Film
Counting the circus clowns.
(First: Episode 0501)

Insert
The Alphabet Dancers form the letter T.
(First: Episode 0454)

Film
A baker draws a kitchen and utensils to bake a birthday cake.
(First: Episode 0427)

Muppets
Sesame Street News Flash: Don Music successfully writes "Old MacDonald," with the help of Kermit and several barnyard animals.
(First: Episode 0923)

Film
Kids narrate a film of animals moving in different ways.
Music: Joe Raposo
(First: Episode 0098)

SCENE 5
David encourages a crowd to participate in a dance lesson for only a dime. Mr. Macintosh is goaded into it, having to pay another dime for each new step. Mr. Mac shows off some steps of his own, costing David a dime to learn them himself. The two then perform a whole dance routine.

Film
A woman repairs wires for the telephone company.
(First: Episode 0771)

Film
Two kids cooperate on putting on smocks for painting.
(First: Episode 0284)

Cartoon
The Typewriter: V for Vacuum
(First: Episode 0774)

SCENE 6
Maria asks Olivia to take a photo of everyone at the fair so she can send it to Buffy. After Olivia snaps the shot, she announces the sponsors.