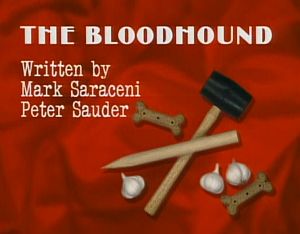 Eliot's suspicions and fears about Colleen's new friend result in a madcap adventure that has Dog City howling in fear. A vampire is loose in Dog City, and Ace has to find him before everyone goes to the dogs.
Chief Rosie O'Gravy, Ace and Eddie each work in their own inimitable way to solve the mystery of the "Bloodhound." Ace, skeptical, puts his nose to the ground to pick up every clue, but Eddie's belief in the vampire begins to cloud his judgment. Can they find the fiend before he bites another dog? Ace, Eddie and Rosie race against time to solve this Ace Hart mystery.
Note
While the episode originally debuted in November, it was repeated in October 1993 as part of a FOX Halloween-themed block.
Community content is available under
CC-BY-SA
unless otherwise noted.