Sesame Street
Plot
Bob learns to expresses emotions through sign language
Air date
December 30, 1977
Season
Season 9 (1977-1978)
Sponsors
P, R, 8

This episode guide has been compiled from materials at the CTW Archives.

ⓘ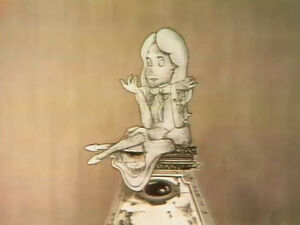 Big Bird dreams about a big bowl of hot birdseed.
Animation: Children use clues to draw a picture of a chicken. (EKA: Episode 0838)
In the Old West, a couple of cowboy Muppets meet the Alphabet Kid, who claims that he can write the alphabet faster than any man alive. To prove it, he quickly draws his crayon and speedily writes out the whole alphabet.
Cartoon: A girl imagines she's a rock, which becomes a statue. (EKA: Episode 0773)
Ernie & Bert — Ernie is sad, because it's raining and he can't play baseball. Bert encourages him to imagine that he's playing instead. In Ernie's imagination, he hits a high fly ball that lands in the ocean. Bert tells Ernie that the sun is out, and he can go out and play now. Ernie says that he can't play -- his ball fell in the ocean. (EKA: Episode 0678)
Cartoon: A hand makes an ocean landscape, then turns it into a bustling city, which surprises a scuba diver.
Song: "Como Estas, Luis?"
Shapes are found all over everyday objects on Sesame Street.
Cartoon: A story of a man who hates frogs, until his swamp becomes infested with flies. (EKA: Episode 0407)