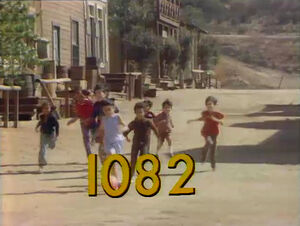 Picture
Segment
Description

Muppets
Ernie & Bert — Ernie and Bert sing "Imagination". (ending edited)
(First: Episode 0493)

Cartoon
"Imagination Rain"
(First: Episode 0353)

Film
A young baboon sits on the back of their parent as they cross the plain.
Music: Joe Raposo
(First: Episode 0299)




SCENE 1
Big Bird is in charge of Hooper's Store while Mr. Hooper is downtown. Maria compliments him on the hot cocoa he's made, prompting Bob and Olivia to order some too, as well as a round of toast for all. Big Bird plops some bread in the toaster, which goes haywire; he's forgotten that Mr. Hooper told him it's broken. The adults all leave, making Big Bird think they don't like him or his cooking. They all return with their own solutions to the problem - Olivia brings her toaster from home, Maria brings her tools to fix the old one and Bob made toast in his apartment. Mr. Hooper returns with a brand-new toaster, but everyone is already serviced.

Cartoon
Today's Secret Drawing is a mailman.
(First: Episode 0220)

Film
Three kids want to paint, but each of them has only one item, so they all cooperate.
Music: Joe Raposo
(First: Episode 0318)

Cartoon
Bolt and Nut show how they work together.
(First: Episode 0569)

Muppets
Muppet & Kid Moment — John-John and Herry Monster count to twenty.
(First: Episode 0441)

Cast / Celebrity
Judy Collins sings "The Sun Shines" with Gordon, Susan, Bob, Maria, Mr. Hooper and the kids.
(First: Episode 0993)

Cartoon
Mr. Tweak can't sleep because his neighbor above snores, and his neighbor below sneezes.
Artist: Abe Levitow
(First: Episode 0528)

Film
George the Farmer demonstrates above and below.
(First: Episode 0262)

Cartoon
E ... see me eating a peach
(First: Episode 0001)

Cartoon
A man saws a letter E through the wall.
(First: Episode 0370)

Cast
Linda and a boy sign the word "CLOSED."

Muppets
Super Grover: A boy is confused -- his mother told him to take a bus home, but he doesn't know where to find the bus. Super Grover arrives, and they soon discover a sign that says "Bus Stop". The boy believes they found the answer, but Super Grover insists that his mother told him to take a bus home, not a sign.
(First: Episode 0708)

Film
People of all ages ride bicycles.
Music: Joe Raposo
(First: Episode 0616)

Cartoon
"Jazz #4"
(First: Episode 0006)

Film
The Mad Painter #4
(First: Episode 0344)

Celebrity
Bill Cosby counts three kids, but a fourth keeps hiding behind him.
(First: Episode 0154)

Film
A pair of hands deal cards marked with the numbers 12 to 1.
(First: Episode 0433)




SCENE 2
Big Bird shows Bob and the kids some of the things he's planning to bring on their upcoming trip to Hawaii. Bob and the kids help him pick the things he will actually need - his inner tube, swim trunks and straw hat, and leave behind his sled, overcoat and winter cap.

SCENE 2 cont'd
Big Bird then tells them he's helping Mr. Snuffleupagus pack and asks if he should take his toy boat, or his ice skates (both of which are very large).

Cartoon
Three birds enter a cuckoo clock to do their job.
(First: Episode 0407)

Film
Anne Meara narrates a silent film of a woman in a burning building, who needs HELP.
(First: Episode 0506)

Muppets
Sesame Street News Flash: Kermit the Frog helps Don Music finish the "Yankee Doodle" song, then because Don finds the idea of calling feathers macaroni ridiculous, they rewrite it to be a song in which Yankee Doodle stays at home cooking for his pony, puts "fat spaghetti" in a pot and calls it macaroni. Little Chrissy and the Alphabeats then come in and perform the song with Don.
(First: Episode 0876)

Cartoon
The great Alphonso and his trained X's
(First: Episode 0299)

Muppets
Herry Monster sings "Furry Blue Mommy of Mine."
(First: Episode 1052)

Cartoon
What if an elephant and a mouse had their features switched around?
Artist: Cliff Roberts
(First: Episode 0212)

Muppets
Ernie & Bert — Lefty the Salesman wants to sell Ernie a painting of a tree, which he says is a picture of four elephants. Ernie doesn't see the four elephants, so Lefty offers to show him the elephants if Ernie will buy the picture for a nickel. Lefty points out the elephants, which are actually spaces in the tree's branches. Ernie shells out for the picture. Ernie wants to pull the same trick on Bert, but Bert notices the elephants right away.
(First: Episode 0292)

Insert
Maria asks the viewer to imagine her as a baseball player, a princess and a chef.
(First: Episode 0558)

Film
Detective Fred (Joe Raposo) is sent by his boss (Danny Epstein) to locate the number 20. Throughout the office and on the streets of New York, Fred tracks down the numbers 11 through 18 in numerical order by spying his surroundings. When he finds his way to Apartment 19, he discovers it is occupied by a gorilla, who leads him directly to the elusive 20.
(First: Episode 0277)

Cartoon
A man explains that the letter E begins both Enter and Exit. Another man named Roy runs through the doors.
(First: Episode 0406)

Film
A boy tells what happens on a fishing boat.
(First: Episode 0028)

Cartoon
Brand X
(First: Episode 0299)

Film
Footage of various bird species including hens, flamingos, pigeons, owls, ostriches, cockatoos, and others.
Music: (piano and whistling) Joe Raposo
(First: Episode 0019)

Transition
Bridge #8 - Rectangle Bridge B
(First: Episode 0290)

SCENE 3
Mr. Hooper describes what ice boxes were to two kids, as Big Bird announces the sponsors.