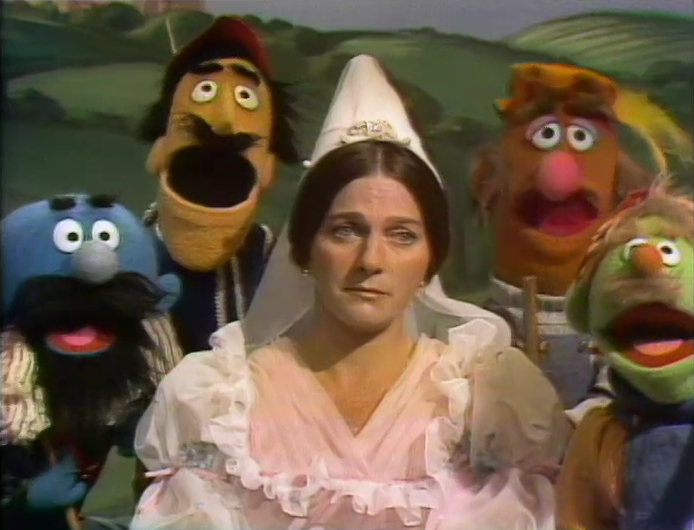 It's raining on Sesame Street the day before everyone leaves for Hawaii, but that doesn't damper anyone's spirits.
Cartoon: Two monkeys argue over what to watch on TV, growing bigger the angrier they get. (EKA: Episode 0844)
Ernie & Bert — Bert can't go on a trip with Ernie because his hand has purple paint on it. Ernie puts a mitten on Bert's hand to cover it, but Bert still won't go because he looks silly wearing one mitten. So Ernie completes the outfit with another mitten, a hat, a scarf, and a sled. Ernie then reveals that they are going to the beach. (EKA: Episode 0514)
Olivia bakes a sweet potato pie to take to her host and hostess in Hawaii.
Animation: a small frog is jealous of how big an ox is, so he expands himself into a very large, round frog. He becomes so self-important and big he ends up exploding. (Artist: John Korty)
Luis tells the story of "The Sad Princess". In a faraway land, a beautiful princess (played by guest star Judy Collins) has a number of hard-working, happy subjects. Luis reads in the book that the princess is very happy, but the princess interrupts him. "Don't believe everything you read!" she cries, throwing the book away. "The fact is, I'm sick of being clean. I'm sick of being lovely... and I'm one sad princess." Her subjects insist that she must be happy, because she's a beautiful princess. She sings a sad song, explaining that she's very bored just sitting around and watching them work. She offers to join her subjects in their work. They object that she might tear her dress, or get dirty, but she says that she'd love to get dirty. The subjects are thrilled to have "a beautiful, working princess". Luis shrugs and says that they lived happily ever after, although the subjects point out that that's a generalization -- they have good days and bad days. The princess asks Luis to move so that she can fix his chair. (EKA: Episode 0812)
Film: A boy narrates a film of how his family trains wild ponies on the farm. (EKA: Episode 0815)
The Count counts the number of times he hears thunder and lightening on Sesame Street.
Two Muppet children, who can only read some words, resolve their fight over a book by helping each other and reading alternate words. (EKA: Episode 0297)