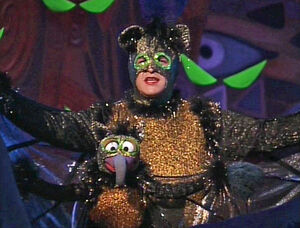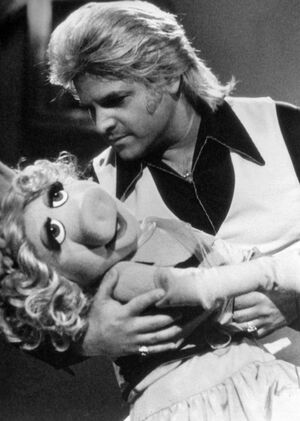 Creative differences threaten to close down a revival of "Bats," a musical written by Gonzo and Jason Alexander during their college years.
Skit Highlights
Animal hits his head against a gong and incapacitates himself.
Clifford and Bobo try to prevent Humpty Dumpty from jumping off a wall and committing suicide. However, Bobo's attempts to talk him round only stiffen his resolve and the detectives decide to eat the evidence.
Jason Alexander stars as Hercule Poirot in an Agatha Christie spoof. Mr. Poodlepants is murdered, and Hercule is called on to solve the case. But everyone thinks he is "Hercules", the fictional Greek hero. Jason makes several in-character attempts to explain who he really is, but when Bunsen mistakes him for Superman, he loses patience, and leaves, falling off the train in the process.
Miss Piggy and her crew's spaceship is invaded by space pirates led by Vendela. Miss Piggy tells her crew that Vendela is an ugly monster princess, but she turns out to be the Swedish supermodel, and all the male members of the crew go off to be a personal slaves, leaving Miss Piggy to vent her anger on the new spaceship computer.
Notes
Performers
Cast
Muppets:
Clifford, Gonzo, Rizzo the Rat, Jowls, Kermit the Frog, Nigel, Fozzie Bear, Mr. Poodlepants, Dr. Bunsen Honeydew, Beaker, Seymour, Pepe the King Prawn, Animal, Miss Piggy, Muppets Tonight Band, Captain Pighead, Craniac, Snorty, Bobo the Bear, Mr. Callahan, Polly Lobster, Clueless Morgan, Eggheads, Ernest Pleth, Thor, Zeus
Background:
Audience Muppets: