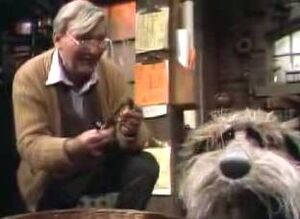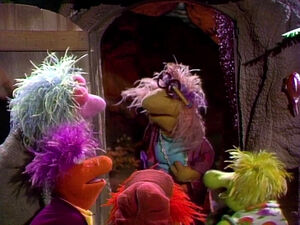 The Storyteller tells the Fraggles the story of the brave Sir Blunderbrain, who disappeared long ago in the fabled Terrible Tunnel. Gobo says that it's just a story, but then Wembley stumbles into the Terrible Tunnel himself. No one believes that he was there, so Wembley decides that to prove that he escaped from the Terrible Tunnel... he'll have to find it again!
Meanwhile, Sprocket has dug up an old horseshoe and Doc wants to trade anything to Sprocket for the horseshoe that he wants to use for his collapsible bookcase.
Fraggle Facts
Notes
International versions
French version: Doc remains amorous towards Madame Pontaven, preparing house decorations for their dinner that evening. He also displays a superstitious side, unnerved when Croquette wanders under his ladder, and seeking reassurance of romantic success from his horoscope and from tarot cards. Ultimately, all the labor is for nought, as Madame cancels, having lost her appetite.
Songs
Supporting Cast
Video releases
International episode titles
Denmark: "Den frygtelige tunnel"
Finland: "Hirmuinen tunneli" (Horrible tunnel)
France: "L'horrible Tunnel" (The Horrible Tunnel)
Germany: "Der Tunnel des Schreckens" (The Tunnel of Horror)
Japan: "おそろし穴見つけた" (I Found a Terrifying Tunnel)
Netherlands: "De verschrikkelijke tunnel"
Norway: "Den fryktelige tunnelen"
Poland: "Straszliwy tunel" (Horrible tunnel)
Portugal: "O Túnel Terrível"
Spain: "El túnel terrible"
Sweden: "Vembi och legenden" (Wembley and the Legend)
Community content is available under
CC-BY-SA
unless otherwise noted.