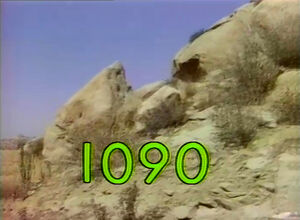 Picture
Segment
Description




SCENE 1
Snuffy intends to follow Big Bird on the big trip to Hawaii, but first they have to pack. Bob shows Big Bird an effective way to pack a beach ball.

SCENE 1
cont'd
The bus has left Snuffy behind...now how will he ever get to Hawaii?

Cartoon
Jazz #7
(First: Episode 0136)

Muppets
Ernie & Bert — Ernie plays doctor and makes Bert be the patient for his check-up. He checks Bert's heart, mouth and more. At the end, Bert wonders how he is feeling, but Ernie can't tell him that until he's a real doctor, twenty-three years from now. Bert faints after Ernie's answer and Ernie wonders if there's a doctor in the house.
(First: Episode 0937)

Cartoon
A kid tries to push his toy house through the front door without the door closing.
Artist: Paul Fierlinger
(First: Episode 0914)

SCENE 2
The gang arrives at the airport.

This shot was used in the opening sequence every day of the following week.




SCENE 2
cont'd
Oscar has to go through the metal detector, but first he has to take everything out of his can...

Cartoon
A bee looks for a flower.
Artist: Bruce Cayard
(First: Episode 0616)

SCENE 3
Oscar has finally passed through the metal detector.

Film
Mad Painter #7
(First: Episode 0314)

Muppets
A barbershop quartet sings about counting floors when they go up and down in an elevator.
(First: Episode 0889)

Film
Peacock
Music by Joe Raposo
(First: Episode 0278)

SCENE 4
While looking for Snuffy on the airport tarmac, Big Bird meets the airplane pilot played by Jim Thurman, and learns about the parts of an airplane. He initially thinks the man says he is a pirate, instead of a pilot.
Part of this scene is edited into A Walking Tour of Sesame Street, the show's 10th anniversary special.

Cartoon
P is for Puppy
(EKA: Episode 0296)

Muppets
Anything Muppets sing that P is "My Favorite Letter".
(First: Episode 0322)

Cartoon
P is for Pillow
(First: Episode 0374)

Cast
In the desert, Luis desperately searches for AGUA, but all the pumps are dry.
(First: Episode 0680)




SCENE 5
The gang boards the plane. Big Bird asks the stewardess if she's seen Snuffy anywhere.

SCENE 5
cont'd
Maria belts Oscar's can down.

SCENE 5
cont'd
Snuffy has missed the plane.

Cartoon
P is for Puddle
(First: Episode 0452)

Muppets
Two Anything Muppets (Frank Oz and Jerry Nelson) use a tape measure to figure out how far apart they are from each other. It turns out that thirty-seven feet separate them.
(First: Episode 0905)

Cartoon
Picnic with P foods (carried away by ants)
Artist: Cliff Roberts
(First: Episode 0764)

SCENE 6
Big Bird awaits as the plane prepares to take off.

SCENE 6
cont'd
... and they're off!

Cartoon
The Typewriter: B for Ball
(First: Episode 0829)




Muppets
Waiter Grover: Grover opens a menu and shows Mr. Johnson a large picture of the special sandwich, which comes with potato chips on the side, a pickle on the top, and olive stuck in with a toothpick. When the sandwich arrives, Mr. Johnson complains that it doesn't match the picture on the menu -- it doesn't have potato chips, a pickle or an olive.
(First: Episode 0332)




SCENE 7
Big Bird is getting bored with the long flight, not to mention worried that he'll be starving by the time it's over. Thankfully, the stewardess offers lunch right then. Oscar's complaints about his order make the stewardess sick to her stomach.

Animation
Shape organization, part 1
(First: Episode 0419)

Song
B is for Bubble
(First: Episode 0008)

Animation
Shape organization, part 2
(First: Episode 0419)

Muppets
The Word Family Song: ET family
(First: Episode 0139)

Animation
Shape organization, part 3
(First: Episode 0419)
Cut from the Noggin version.

Animation
Shape organization (all formations review), part 4
(First: Episode 0419)
Cut from the Noggin version.




SCENE 8
Oscar is disappointed that the in-flight movie will be Happy Happy Happy.
Big Bird gets a set of headphones to listen to as he falls asleep during the closing credits while Bob announces the sponsors quietly.

The story of the trip to Hawaii continues in episode 1091.




CLOSING SIGNS
Kermit and a girl hold up the Sesame Street sign and Maria holds up the CTW sign.
Known edits
Notes
In this episode the airline that operated the airplane was United, but the rest of the Hawaii episodes the airline is the now defunct Aloha Airlines