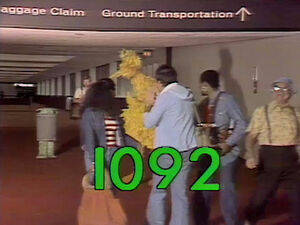 Picture
Segment
Description




SCENE 1
Buffy gets up in the morning and sings a song.




SCENE 1
cont'd
The Sesame gang boards the truck. Big Bird wants to take some cabbages for Snuffy.

Muppets
Little Chrissy and the Alphabeats sing "Exit" as the audience leaves the room.
(First: Episode 0666)

SCENE 2
Oscar witnesses Buffy and some kids talking about their nationalities.

Film
Time-lapse of seeds growing.
Music: Joe Raposo
(EKA: Episode 0597)

Cartoon
M is for Marvelous Martha
(First: Episode 0013)




SCENE 3
Big Bird and Snuffy search for Mount Snuffleupagus. Snuffy lays down to rest. Big Bird confirms what the mountain will look like, but doesn't notice that the mountain behind them is the one they're looking for.

Muppets
The Count's bats are upset; he always gets to count, but the bats don't. The Count decides to let the bats count all of the Counts, while the Count counts all the bats... but there's only one Count.
(First: Episode 0625)




SCENE 4
Bob and Maria play with some kids, who teach them how to count to ten in Hawaiian.

Cartoon
Pinball Number Count #3
Animation by Jeff Hale
(First: Episode 0978)

SCENE 5
Olivia converses with Boogie as they share some poi.

Film
Things that begin with N
(First: Episode 0659)




SCENE 6
They find a mountain that looks more like a gorilla than a Snuffleupagus.

Muppets
Ernie & Bert — Ernie has heard that somebody in the neighborhood is sick. He looks in a medical book to find out how to tell if someone is sick... not realizing that Bert is the one with a cold.
(First: Episode 0435)

SCENE 7
Keola sings a song about his grandfather.

Cartoon
The Typewriter: N for Nose
Artist: Jeff Hale
(First: Episode 0793)




SCENE 8
Keola plays the nose flute, and so does Snuffy.

Muppets
FOUR Grovers?!
(First: Episode 0718)

SCENE 9
Oscar wants to see the hot lava that he's heard so much about.

Muppets
Sesame Street News Flash: The Tortoise and the Hare: When the race begins, the hare dawdles, since the tortoise is so slow he'll have time to win. Kermit rushes to the finish line so that he can see the results... and is crowned the winner.
(First: Episode 0477)

SCENE 10
Bob, Olivia and Mr. Hooper go out canoeing and singing with their friends. George "Boogie" Kalama demonstrates outrigger canoe skills.

Muppets
Anything Muppet cheerleaders sound out the word "rocket," then witness a rocket blasting off.
(First: Episode 0567)

Song
Joe Raposo sings "Take a Breath."
(First: Episode 0347)

Cartoon
Which footprint doesn't belong?
(First: Episode 0509)




SCENE 11
At the campfire, everyone sings a song called "Nice People." Maria announces the sponsors.

The story of the Hawaii trip continues in episode 1093...
Known edits
Picture
Segment
Description

Cartoon
"I Can Remember": A little girl remembers what to buy at the store (A loaf of bread, a container of milk, and a stick of butter) by visualizing her mother giving the instructions.
Artist: Jim Simon
(First: Episode 0408)

Muppets
Game Show: The Remembering Game
(EKA: Episode 0310)

Cartoon
A carnival barker hawks his invisible chicken, but the children customers point out it quacks like a duck and leaves webbed footprints.
(EKA: Episode 1020)

Film
Horses compete in a contest to see who can pull the most cement.
(EKA: Episode 0659)

Film
Kids draw music instruments on a blackboard. The drawings animated themselves and make their respective sounds.
(EKA: Episode 0822)

Cartoon
Richard Bird subtracts two balloons from a group of three.
Artist: Cliff Roberts
(EKA: Episode 0597)