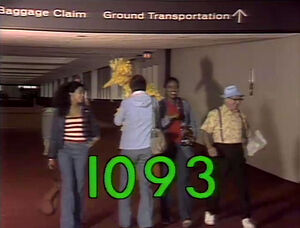 Picture
Segment
Description




SCENE 1
The gang packs the truck and gets ready to head out again. As always, Big Bird would rather stay behind and search for Mount Snuffleupagus.

SCENE 1
cont'd
Oscar has his own transportation (or lack thereof).

Muppets
Ernie & Bert — Bert is curious as to whom Ernie is decorating the room for. It turns out to be the viewer at home.
(First: Episode 0352)

Video
Scanimate kids intro
(First: Episode 0798)

Video
Four children roll on a gym mat while The Count counts them (in voice-over).
(First: Episode 0908)

SCENE 2
Buffy sings "I'm an Indian Wherever I Go" with some kids.

Cartoon
A cleaning lady (reminiscent of Carol Burnett's character) wanders into a music rehearsal room, plays each instrument, and puts all the sounds back into the wrong instruments.
(First: Episode 0774)

Muppets
Grover climbs a mountain and counts from one to ten with his own echo.
(First: Episode 0949)




SCENE 3
Big Bird and Snuffy think they've found the right mountain -- but what they see turns out to be "Mount Hole-in-the-Mountain" instead.

Film
A bumble bee
Music: Joe Raposo
(First: Episode 0082)
cut from the Noggin version

Muppets
Cookie Monster and Crumbs Unlimited are featured in a number, "Cookie Disco," at the end of which Cookie ends up eating all the equipment.
(First: Episode 1054)

Celebrity
Michael and Paul: Michael wants to make dinner, while Paul juggles it instead.

Cartoon
A boy demonstrates why his dog's name is Happy.
(First: Episode 0537)

SCENE 4
Buffy plays with Cody by the river.

Muppets
A group of Muppets (including Herry Monster) split into two separate teams for a game based on whether they have letters or numbers printed on their shirts. However, one of the small ones points out that they've split into one team of big players and one team of small players. They eventually agree to play Tiddly-Winks.
(First: Episode 0298)

Cartoon
Madrigal Alphabet
Artist: Jeff Hale
(First: Episode 0615)

SCENE 5
Keola and Kapono demonstrate a traditional Hawaiian hula. Bob and Mr. Hooper try it themselves.

Muppets
Ernie & Bert — Ernie makes a clay bust of Bert, but runs out of clay for the nose, so he pulls Bert's nose off and puts it on the statue.
(First: Episode 0463)

Animation
4 people, 4 wheels, 4 doors, and 4 windows make a carpool.
(First: Episode 0910)
cut from the Noggin version

SCENE 6
Bob turns to Keola for something romantic to say to Linda. He learns several signs to teach Linda when he goes home.

Cartoon
A poem about changing seasons.
(First: Episode 0726)

Cartoon
Five stripes make a circle.
(First: Episode 0780)

Song
"Lowercase n"
(First: Episode 0358)

SCENE 7
Big Bird and Snuffy do the hula.

Film
A very busy man is asked by a voice what "forwards" and "backwards" means, but the man doesn't have time to listen. Instead, he is shown what "backwards" means by watching everything around him go in reverse motion!
(First: Episode 0166)

SCENE 8
Bob calls Linda back home. Luis interprets for both of them. Bob and Linda say they miss each other. Bob says he learned some signs to teach Linda. At the end of the phone call, Bob explains to Luis to hold his hand up and drop his 3rd and 4th fingers to Linda and give the sign for "I love you" and Linda signs it back. Luis does not know the sign but he is happy to communicate for Bob & Linda.

Cartoon
Elephants have four legs.
(First: Episode 0560)

SCENE 9
Buffy shows Big Bird around the yard, introducing him to the various varieties of plants. She sticks a flower behind his ear.
cut from the Noggin version

Cartoon
K is for Kiss
(First: Episode 0131)

Film
Car assembly
(First: Episode 0506)




SCENE 10
Bob plays some Hawaiian games with the kids.

Cartoon
K for Kite
(First: Episode 0489)

SCENE 11
The kids swim in the ocean as the sponsors are mentioned by Maria.

The story of the Hawaiian trip continues in episode 1094...




CLOSING SIGNS
cont'd
Maria holds up the Sesame Street sign, while Ernie and Bert hold up the CTW sign at the end.