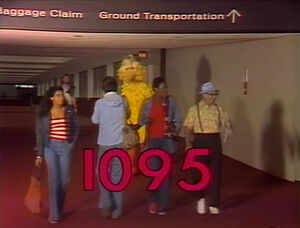 Picture
Segment
Description
SCENE 1
Big Bird explains to Herb the Horse that everyone is going to have a luau for Cody, who is turning one year old today. Then, he calls his friends to get ready for the big day in Hawaii, but they're still sleeping in the teepee.



SCENE 1
cont'd
Then, when his friends get ready for Cody's first birthday party, Big Bird tries to look for Snuffy so he can ask him what he could bring to Cody. When Big Bird arrives back at the party, he thinks he didn't help his friends. Buffy says it's all right.
Cartoon
"I'm six years old today!"
Artist: Jim Simon
(First: Episode 0357)
Muppets
The Amazing Mumford's Suspension Act
(First: Episode 0292)
Cartoon
A magician tries to make six circles disappear.
(First: Episode 0783)
Film
"Six Song (Song of Six)"
(First: Episode 0011)
SCENE 2
The gang celebrates Cody's first birthday. First, Keola sings a children's blessing. Then, Kapono, Keola, and the others sing Happy Birthday in Hawaiian. Afterwards, Big Bird and his friends give Cody presents.
Muppets
Cookie Monster and Ernie: Ernie and Cookie Monster discuss hope. Ernie has something in a brown paper bag, and asks Cookie Monster what he hopes it is. Cookie Monster hopes that it is a cookie. It turns out that Ernie has ten cookies in the bag.
(First: Episode 0233)
Cartoon
"I've Got a Mind" -- bouncing a ball
(First: Episode 0293)
Muppets
Visual Thinking: A hipster and a square imagine shapes.
(First: Episode 0361)
SCENE 3
The gang plants a garden near the tent.
Cartoon
C is for Candle (the candle blows back)
(First: Episode 0703)
Cartoon
C is for Canary
(First: Episode 0703)
SCENE 4
Olivia tastes some new foods for the party; it's hula time!
Cartoon
C is for Cowboy
(First: Episode 0703)
Muppets
Cookie Monster sings "C is for Cookie"
(First: Episode 0372)
SCENE 5
Cody and the kids play along together outside the tent.
Muppets
Kermit's Lectures: Kermit and Grover demonstrate "here" and "there."
(First: Episode 0277)
Cartoon
"Have you seen my NO?"
(First: Episode 0773)
Cartoon
G is for Goat
(First: Episode 0085)
Muppets
Muppet & Kid Moment — Kermit and a girl talk about how to get from one place to another.
(First: Episode 0548)
Cartoon
G is for Glue
Artists: The Hubleys
(First: Episode 0279)
SCENE 6
The gang sings a beautiful song to Cody.
Muppets
Muppet & Kid Moment — Ernie, Bert and Shola count fingers.
(First: Episode 0548)
Cartoon
A trainer announces that his talking dog will say YES, but he says NO instead.
Artist: Derek Lamb
(EKA: Episode 0595)



SCENE 7
The gang is heading back to Sesame Street and says good-bye to Buffy. Back in the plane, Big Bird wanted Snuffy to come back to Sesame Street with him but Maria doesn't want to hear any more of it and suggests for him to take a nap, as she plans on doing the same. He cries a little...until he feels Snuffy's snuffle! Immediately, Big Bird shushes Snuffy so he won't be noticed.

The plane takes off as Buffy and her family wave goodbye. Bob announces the sponsors and the credits roll over shots of Hawaii.




CLOSING SIGNS
Grover holds up the Sesame Street sign and Bert and Ernie hold up the CTW sign.
Known edits