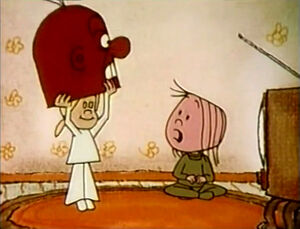 The Sesame Street gang returns to the city from the island of Hawaii.
Maria wonders why there is no one to welcome her and the gang back to Sesame Street.
Film: "At the Animal Doctor": Two boys take their dog to the vet. (EKA: Episode 1016)
Oscar gives out presents he brought back from Hawaii, but is surprised to see that everyone actually likes them.
Cookie Monster and Ernie: Ernie tells the viewer to let him know if they see or hear Cookie Monster so he won't take the cookie which Ernie just got from Hooper's Store. Ernie encounters a machine that reads "Your Fortune Told, Insert One Cookie." Not realizing that Cookie Monster is inside the machine, he inserts the cookie. Some munching noises are heard, and a card comes out that says "You will soon be kissed by a grateful Cookie Monster." (EKA: Episode 0746)
Film: Kid voiceovers identify a horse's body parts (shown one at a time), then the complete animal. (EKA: Episode 0813)
Big Bird goes to sleep wearing the souvenirs he brought back from Hawaii.
Community content is available under
CC-BY-SA
unless otherwise noted.