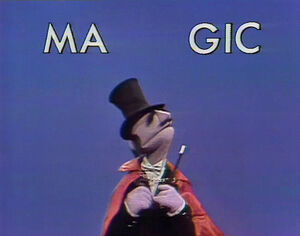 Big Bird is ready for the snow, because he's planned everything that he would need.
Film: The making of a jumpsuit, from the initial design to the finished product (EKA: Episode 0956)
Oscar scatters ashes on the snow.
Cartoon: F stands for flower, forest, fox, frog and fantastic.
Ernie & Bert — Bert notices that Ernie has a piece of string tied on his finger. Ernie says that the string tied on this finger helps to remind him that there's a piece of string tied on this finger. And so on. The string on the last finger is there to remind him that they're out of string. (First: Episode 0163)
Cartoon: A boy gets lost, and encounters a man with a yo-yo, who tells him to remember everything he passed. (Artist: Jeff Hale) (EKA: Episode 0668)
Cartoon: A lost man in the desert asks a stranger for directions to the city. He builds a pretend city out of sand to show what it looks like. As it turns out, the stranger is an alien. (EKA: Episode 0811)
Big Bird asks for help, and some children help him.
Cartoon: A woman serves milk to her cat. Several other cats join him, including a lion. (Artist: Bruce Cayard)