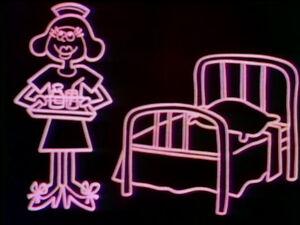 Film: A girl and her father in Appalachia build a stool. (EKA: Episode 0536)
Children pretend to drive cars by using a hoop as a steering wheel.
Oscar the Grouch is unhappy; a Muppet hired to shovel snow is being very nice to him. Soon, everybody wants his or her snow shoveled first, so they plan on what order the snow shoveling will be.
Today's Secret Drawing: A nurse. (Spanish version)
Oscar helps shovels snow.
Sesame Street News Flash: Humpty Dumpty has fallen off a wall, and Kermit interviews one of the king's horses. (Gladys the Cow is also with them, pretending to be a horse.) Humpty is put together again, but when Kermit gives him a congratulatory slap on the back, he falls off the wall again. Then the king's horses and men begin blaming Kermit for the trouble he caused. (EKA: Episode 0705)
Animation: A mound of sand gets bigger.
Animation: Sand in an hourglass pours to the other side. (EKA: Episode 1084)
Big Bird invites the snow shoveler to play with him.