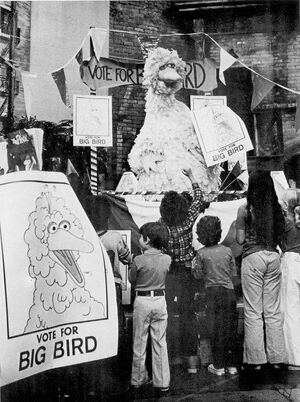 Oscar tries to get rid of three old cans, so he can have more room inside his trash can. Luis and Maria find a good use for two of them. Oscar decides to keep the third one, because it's kind of an old favorite of his.
Cartoon: Two kids find different uses for a cooking pot. (EKA: Episode 0825)
Big Bird is convinced that he could make a good president. He sings a song called "President Bird". Big Bird becomes president, without realizing that he has to think of everybody's needs.
Cookie Monster sees styrofoam letters that spell the word FOOD. After he sounds them out, he dons a bib, sprinkles salt and pepper on the letters, and not only eats those ... but the salt and pepper shakers AND the bib to boot! (EKA: Episode 0723)
Street cleaners find campaign buttons after Big Bird's political rise and fall. They sort the buttons by size.
Sesame Street News Flash: Kermit the Frog interviews the Invisible Man, who tap dances for him, and later introduces his family which crowds Kermit. All that is seen of the Invisible Man and his kin are their hats.
Silent film: Two men (played by Richard Belzer and Brian Doyle-Murray) are about to share a picnic lunch, but first decide to try rowing a boat on the lake. A brown dog arrives and starts to eat the sandwiches. Panicking, the men try to steer the rowboat back to the shore but they can't direct the boat. Eventually, they realize that to return they must cooperate. They get back just in time to take back the last wrapped sandwich out of the dog's mouth. (EKA: Episode 1083)
Film: A wheel rolls away from garbage, and a boy captures it to complete his wagon. (EKA: Episode 0767)
Ernie & Bert — In a two-part sketch, The Count sleeps in Bert's bed while Bert sleeps on the couch. Ernie tells the Count that he can count sheep to get to sleep, but the Count stays up all night counting sheep. The next morning, The Count mentions that he had a good night, but he didn't sleep. His counting kept Ernie up, and now Ernie is walking and counting in a daze. (First: Episode 0941)
Cartoon: A goat sings the "Mad Goat Song." A dog pulls the goat's whiskers, a cat sets off a loud firecracker, a duck makes faces at the goat, and a pig refuses to share his ice cream with the goat. (First: Episode 0771)