Sesame Street
Plot
Oscar installs a swimming pool in his trash can
repeat of 0799
Air date
February 8, 1978
Season
Season 9 (1977-1978)
Sponsors
L, N, 5

This episode guide has been compiled from materials at the CTW Archives.

ⓘ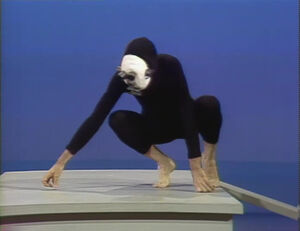 Mr. Snuffleupagus sneezes after putting pepper on a cabbage dinner served at Big Bird's nest. The sneeze is so strong that doors fly open and a gust of wind sweeps down the street. Everybody thinks they're in the middle of a storm.
Cartoon: A boy tries to guess what a voice belongs to by asking it questions, and wins a ride on a giraffe. (EKA: Episode 1057)
The Mummenschanz pantomimes a monkey.
Luis hears the sound of water splashing inside Oscar's trash can. Oscar explains that he's built an Olympic-size swimming pool inside his can, and he's having a swimming party.
The Mummenschanz pantomimes various faces.
The Mummenschanz pantomimes a frog.
Herry Monster chooses to play with a doll when he decides that he's not in the mood to play rough and tough.
The Mummenschanz pantomimes a head and tail.
Big Bird is sick, so he decides to stay in his nest for the day. Everybody ends up coming to visit. They got worried when he failed to show up at the usual places. Realizing that he has good friends makes Big Bird very happy.
The Mummenschanz pantomimes a fly.