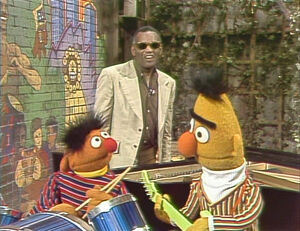 Cartoon: A man plays several letters of the alphabet as if they were musical instruments.
Mr. Hooper is well taken care of at the hospital. A kid in a wheelchair becomes his friend.
Cartoon: A man finds a large log that's perfect for his fireplace, but finds it too heavy to move. So, he moves his house to the log. (EKA: Episode 0939)
Susan takes pictures of Mr. Hooper and his friends at the hospital.
Cartoon: A man talks about going to the city, without noticing he's walking right through it. (EKA: Episode 0843)
Film: 'Fred, Get Me a 20!' - Detective Fred (Joe Raposo) is sent by his boss (Danny Epstein) to locate the number 20. Throughout the office and on the streets of New York, Fred tracks down the numbers 11 through 18 in numerical order by spying his surroundings. When he finds his way to Apartment 19, he discovers it is occupied by a gorilla, who leads him directly to the elusive 20. (EKA: Episode 0277)
Mr. Hooper makes a phone call from the hospital to check on how things are going at his store.
Community content is available under
CC-BY-SA
unless otherwise noted.