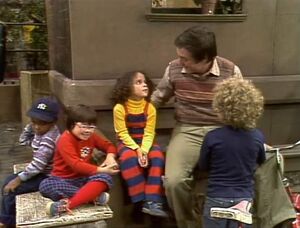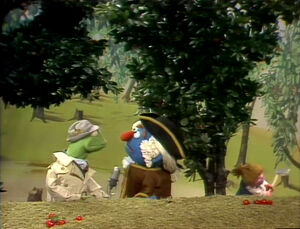 Cartoon: A real Indian boy tells two boys who are playing Cowboy and Indian that Indians don't say "ugh", despite what the other boys had heard on TV. (EKA: Episode 0812)
Luis apologizes to Herry Monster for having yelled at him for spilling grape juice all over his shirt.
Animation: The parts of a picture of a boy are put together. (EKA: Episode 0428)
David is on a ladder at Mr. Hooper's store when Big Bird enters. He tells David to be careful while on the ladder, because he's been hurt on a ladder himself.
Ernie & Bert — Bert can't go on a trip with Ernie because his hand has purple paint on it. Ernie puts a mitten on Bert's hand to cover it, but Bert still won't go because he looks silly wearing one mitten. So Ernie completes the outfit with another mitten, a hat, a scarf, and a sled. Ernie then reveals that they are going to the beach. (EKA: Episode 0514)
Cartoon: A little boy is too short to reach a water fountain. (EKA: Episode 0984)
Film: Future careers: footage of a kid acting out a certain job, followed by an adult doing "the real thing." (EKA: Episode 0796)
Oscar the Grouch has learned not take just any trash -- he'll only accept it if it's really dirty and worn out. He has become interested in recycling.
Mr. Snuffleupagus offers to help Big Bird wrap a present, but Big Bird refuses -- because the present is for Snuffy. It's a mitten for his snuffle.
Cartoon: A hand draws a guitarist serenading a maiden, as well as the background. (EKA: Episode 0822)
Community content is available under
CC-BY-SA
unless otherwise noted.