Sesame Street
Plot
Sam the Machine tries to prove he has feelings
repeat of 0808
Air date
February 15, 1978
Season
Season 9 (1977-1978)
Sponsors
E, U, 4

This episode guide has been compiled from materials at the CTW Archives.

ⓘ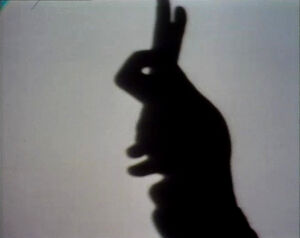 Herry is angry because he doesn't know how to put his new barbells together.
Cartoon: Policemen find clues that lead them to a stolen tub. (EKA: Episode 0868)
Grover the Assistant: Herbert Birdsfoot arranges three blocks for Grover to count. No matter how the blocks are arranged, they still add up to three. Herbert asks Grover to count some oranges as well. Grover confesses that he's good at counting blocks -- but he doesn't know how to count oranges! (EKA: Episode 0309)
Film: At a fiesta, a group of kids try to break through a piñata. (EKA: Episode 0678)
Film: A man makes a shadow puppet of a rabbit.
Big Bird tries to show his new transistor radio to everyone, but nobody's interested in hearing about it.
Cartoon: A man laughs out loud as an alligator uses the telephone to call his wife - then he eats the phone booth.
Film: Body parts song sung in Spanish
Cartoon: The alphabet is presented in a chain reaction of events.
Community content is available under
CC-BY-SA
unless otherwise noted.