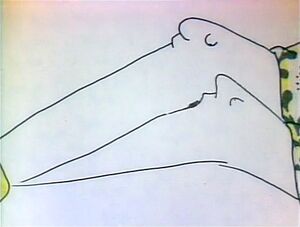 Cartoon: A hand makes an ocean landscape, then turns it into a bustling city, which surprises a scuba diver. (EKA: Episode 1080)
Film: A dirty car gets cleaned at the car wash.
Cartoon: A girl demonstrates that she is scary-looking to a sleeping monster. (EKA: Episode 0845)
Cookie Monster orders a radio, but instead he gets a box containing its parts.
Guy Smiley (then named Sonny Friendly) hosts the "Pick Your Pet" game show. The contestant, Lucy Jones, chooses between a bird, a dog, and a monster. Lucy asks a series of questions to the animals, asking them questions that would relate to a cat. Her time runs up before she can ask Beautiful Day Monster any questions. She has to choose, so she picks Beautiful Day Monster. The monster acts like a cat, so Lucy is happy with her pet. (First: Episode 0067)
Ernie & Bert — Ernie can't sleep, so Bert tells him to count sheep. Ernie tries to count sheep, but it's dull -- so he starts counting fire engines. The noise from the imaginary fire engine wakes Bert up. Bert says that Ernie's waking up the whole neighborhood, and tells him to count something quieter. Ernie counts balloons -- but the balloon gets bigger and bigger, finally bursting with a huge explosion that wakes Bert up again. (First: Episode 0276)