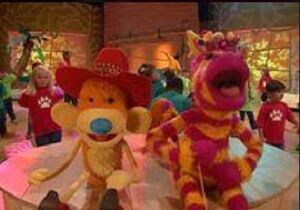 When Waffle's cowboy boots are hurting Waffle's feet, Edi tells him to sit down and take a rest. However, Waffle has a hard time sitting down because he wants to keep dancing. So Edi finds a way that Waffle can still dance while sitting down. After a while, Waffle takes his left boot off and he finds a piece of candy inside it.
At the DJs' workstation, DJ 3 is trying to find his favorite song, "Shake an Egg." After hitting a few control buttons, he accidentally hits the buttons that make wigs fall on DJ 1 and DJ 2. The DJs all end up wearing wigs on their heads.
Songs
Sit Down and Dance
Shake a Leg
Bozark Sittin
Video releases
Community content is available under
CC-BY-SA
unless otherwise noted.