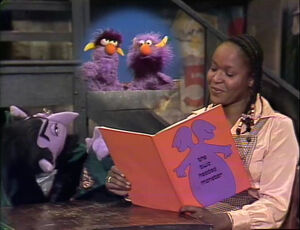 Cartoon: What if we celebrated Valentine's Day with chickens instead of hearts? (EKA: Episode 0543)
Cartoon: Christopher Clumsy jumps over a hole, and falls into another hole. (EKA: Episode 0440)
The Count listens to Olivia read the story, "The Two Headed Monster", enacted by the titular monster. The book is about how the monster cannot decide on what to do because both heads want to do different things. Eventually they learn that together, they are able to lift weights, play doctor ("Kildare! Kildare!"), play the piano ("Tchaikovsky! Mozart!"), and eat a salami-and-cheese sandwich.
Ernie & Bert — Bert asks Ernie about his day. Ernie doesn't think anything interesting happened. Bert points out that Ernie went to the zoo, but Ernie says nothing interesting happened at the zoo. Then he talks about a scratch he got on his finger, and talks about how he got it, realizing in the process that something interesting did happen after all. (First: Episode 0020)
Animation: Three lines at the bottom of the TV frame each attempt to reach the top of the screen. They work together by getting on top of each other, and make it to the top. (EKA: Episode 0300)
Mr. Snuffleupagus dries his pajamas by blowing on them with his snuffle.