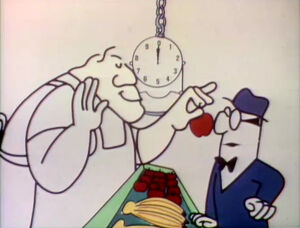 Film: cookies made in different parts of the world.
Bob and children pretend to be various animals.
Film: to a jazz rhythm soundtrack, the camera zooms in on flowers growing on a tree. (EKA: Episode 0842)
Oscar's "grouch" radio doesn't work.
Cartoon: Fred, a singer, fails to figure out the words that rhyme with his name in the song he sings. (EKA: Episode 0977)
Film: a girl puts on her coat all by herself.
Cartoon: A derby-hatted man identifies animal sounds, ending with a tractor. (EKA: Episode 0839)
Ernie & Bert — Ernie wants to show Bert his ice cube collection, however, they were too cold so he put them in a box covered with an electric blanket. Much to Ernie's surprise, the ice cubes have disappeared. Since they were replaced with water, Ernie suspects that a fish might have stolen them. Bert tells him that it's because they've melted. Ernie, however, is now convinced that a fish melted the ice cubes, and angrily walks out the door, threatening to "tear him fin-from-fin." (First: Episode 0033)
Scanimate: 2 houses plus two houses equal four houses.
Cartoon: A man goes to the grocery store to buy apples, but he can't decide how many to get. This frustrates the grocer, who has to keep adding and subtracting the amount of apples on his scale. (First: Episode 0132)
Community content is available under
CC-BY-SA
unless otherwise noted.