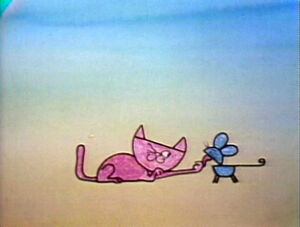 Cartoon: A girl imagines herself as a car that rescues fire victims. (EKA: Episode 0598)
Madame Schwartzhead sings a solo concert about how whenever she doesn't know a certain word, she sounds it out until she blends it together to form the word instead of asking someone else to read it to her. Unfortunately, her concert goes awry when her loony backstage manager misinterprets what he hears. (EKA: Episode 0939)
Harvey Kneeslapper sets up a bucket of confetti above a door, so that whoever pulls the rope attached to the bucket will get the confetti dumped on them. Instead, a little girl walks by and pulls the rope, so that the confetti lands on Harvey! (EKA: Episode 0592)
Cartoon: A pink circle splits into a cat, and a gray circle splits into a mouse.
Ernie & Bert — When Bert can't sleep, Ernie suggests that he imagine himself doing something he likes. Since Bert likes ice skating, he imagines himself doing so. (EKA: Episode 0796)
Biff and Sully move a piano. Biff tries to play a scale and talks about practice. While Biff is away, Sully plays a full concert piece. (EKA: Episode 0926)
Film: kids narrate a film of baby eagles getting fed.
Film: two kids participate in a speed-skating competition.
Community content is available under
CC-BY-SA
unless otherwise noted.