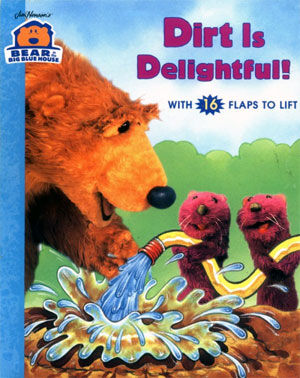 It's a day full of dirt! Bear and Treelo go to the Otter Pond to plant an apple tree and find Ojo playing in the hole Bear dug. Treelo joins Ojo on an imaginary treasure hunt searching for food, which Bear remarks "sounds more like a grocery store than a treasure hole." Bear goes into the kitchen and finds Tutter cleaning house and lamenting his struggles with dirt. Those tiny specks we see are boulder-sized to a mouse! Back at the Otter Pond, Pip and Pop find a bug which pirate Ojo declares is "Moby Bug". The friends ultimately decide to release the bug from captivity and Bear finally gets to plant his tree. Following a bath, Ojo wonders if getting covered in dirt would make food grow on her, like a plant. Bear briefly humors the idea but explains that if Ojo never bathed, getting dirty wouldn't be as fun, to which Ojo happily agrees.
Songs
Characters
Notes
This episode was adapted as the book Dirt is Delightful!
The dog in the Shadow Projects logo oinks like a pig.
Gallery