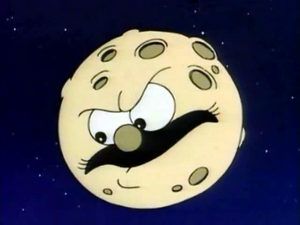 The babies conclude the creature that climbed into the nursery is an alien and try to return her to Neptune.
Plot
The babies are playing outer space explorers when a strange creature enters the nursery. The creature, cloaked in a sweatshirt, bucket and belt from the Babies' closet, was assumed to be a alien named Irma. The Babies think she is from the planet Neptune and was left behind on Earth by her family. The Babies try calling Irma's family and building a huge slingshot to shoot her home. After many failed attempts, the Babies, using their imagination, set off into outer space to take Irma back home.
It turns out that Irma is a koala named Charlie that escaped from the nearby zoo. A zoo keeper comes and gets Irma and gives the babies free passes to the zoo for taking care of him.
Songs
Characters
Muppet Babies: Baby Kermit (as Indiana Frog), Baby Piggy, Baby Fozzie, Baby Gonzo, Baby Rowlf, Baby Scooter, Baby Skeeter, Baby Animal
Notes
The plotline is a reference to E.T. - The Extra Terrestrial.
The title is a reference to one of the opening lines of Star Wars: "A long time ago, in a galaxy far, far away."
When the spaceship lands on Saturn's rings like a record player, the music being played is an instrumental version of the Muppet Babies Theme.
The zoo keeper says that a koala is a type of bear, which is a common mistake. Koalas are actually marsupials.
Gallery