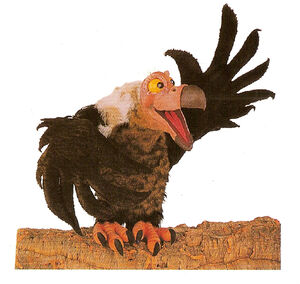 Stinky is scared that Guffrey the Vulture might eat him.
Segments
Opening
That's Amazing: How a vulture finds its dinner.
Guest: Plunk the Sea Otter from the coast of the Northern Pacific Ocean
Baby Talk: Baby sea otters swim.
Song: Do It on My Own
Tizzy's Quiz: Is there more than one kind of otter?
Yves St. La Roache: how to bash shellfish with rocks.
Guest: Guffrey the Vulture from Europe, Egypt and Central America
Song: Guffrey sings The Vulture Song
Animal Awards: Which animal has the biggest wingspan?
Story: Filbert the Finch uses a stick to get bugs out of a tree
Habitat Time: Ocean (kelp forest)
Tizzy's Quiz: How will an Egyptian vulture get into an egg?
Closing
Performers
Community content is available under
CC-BY-SA
unless otherwise noted.