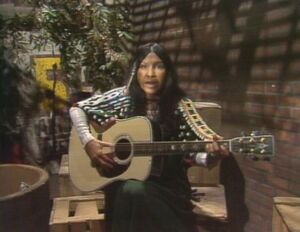 Cartoon: a man and a monster try to figure out how to turn on a light in the dark. (EKA: Episode 0823)
Film: An Hispanic boy gets up, gets dressed, and goes to school as Spanish music plays (A la luna no voy yo). (EKA: Episode 0829)
Maria doesn't like David's moustache.
Silent film: Two men (played by Richard Belzer and Brian Doyle-Murray) are about to share a picnic lunch, but first decide to try rowing a boat on the lake. A brown dog arrives and starts to eat the sandwiches. Panicking, the men try to steer the rowboat back to the shore but they can't direct the boat. Eventually, they realize that to return they must cooperate. They get back just in time to take back the last wrapped sandwich out of the dog's mouth. (EKA: Episode 1083)
Cartoon: the head of a chicken finds its place on top of a chicken's body.
Ernie & Bert — Ernie eats one of the two pieces of chocolate cake that Bert was saving for their dessert. Bert sees Ernie holding a fork in one hand and a napkin with some chocolate on it in the other--and in front of him is a plate full of chocolate-cake crumbs. When Bert accuses Ernie of eating the cake, Ernie tells Bert that a monster came in, ate Bert's cake, and framed Ernie. Bert doesn't believe Ernie's lie. But when Bert leaves the room, Beautiful Day Monster comes in and does exactly what Ernie told Bert happened to the first piece. Ernie tries to explain, but Bert says, "I don't want to talk about it." (First: Episode 0119)
Cartoon: Jasper thinks that he has lost his elbow, but Julius shows him his elbow by bending his arm. (EKA: Episode 0410)