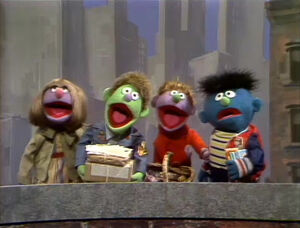 Ernie & Bert — Ernie brings an umbrella, a flashlight, and Bert's bowling ball to the bathtub, just in case the electricity goes out, the roof leaks, and somebody shows up asking to borrow a bowling ball. Bert thinks that Ernie is being ridiculous -- but everything happens, just as Ernie predicted. (EKA: Episode 0269)
Big Bird and children roll a ball down a large cardboard tube.
Film: a behind-the-scenes look of Paul Simon recording "Bingo" with his son, and the manufacturing of the record it will be on.
Cartoon: A boy tries to guess what a voice belongs to by asking it questions, and wins a ride on a giraffe. (EKA: Episode 1057)
Big Bird samples pumpernickel breadcrumbs.
Animation: A lollipop finds its place next to another lollipop. (EKA: Episode 0838)
Maria and David are about to start a ping-poing game, but David doesn't have a paddle. After holding several different types of sports equipment in its place, he finally gets the correct one. Once the problem is solved, Maria and David realize they don't have a ping-pong ball. Dozens of balls then fall on them. (EKA: Episode 0677)
Mr. Hooper asks Bob to play the piano for him.
Community content is available under
CC-BY-SA
unless otherwise noted.