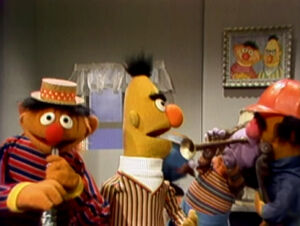 Picture
Segment
Description

SCENE 1
Olivia, Mr. Hooper and Gordon are too busy to play with Big Bird, but Buffy and Cody will play with him.

Cartoon
A cartoon man (voiced by Bob Arbogast) is irritated to find that he has a succession of animal noses.
(First: Episode 0769)

Film
"I Am a Letter" - Vocalists sing a song describing the process of how mail is sent. (re-edited with a new song track)
(First: Episode 0143)

Film
Squares are shown in close-up.
(First: Episode 0420)

Muppets
Snow White accidentally visits the cottage of the six dwarves.
(First: Episode 0279)

SCENE 2
Oscar hears Cody crying, and thinks he'll make a great Grouch someday. He gives his baby items to Buffy, including his blankie, his skunk pull toy, his doll, etc. To his detriment, Cody stops crying and starts playing with them.

Cartoon
"Jazz #4"
(First: Episode 0006)

Muppets
The Amazing Mumford waves his magic wand over a transparent glass cookie jar and makes the jar become full of cookies and then empty (over and over) as an anxious Cookie Monster watches.
(First: Episode 0287)

Cartoon
Jasper and Julius: Apple.
(First: Episode 0485)

Film
A warthog runs around.
Music: Joe Raposo
(First: Episode 0406)

Muppets
Harvey Kneeslapper tells a man that "stickys" are really useful. The man asks, "What's a sticky for?". Then Harvey slaps a number 4 on the man's chest and says, "This is sticky, and it's a four!"
(First: Episode 0668)

Film
Four Song (Song of Four)
(First: Episode 0006)

Film
Slide puzzle - truck
(First: Episode 0403)

Cast
Maria, Luis, Bob, and David, dressed as scarecrows, sing about the ankle, shoulder and knee.
(First: Episode 0711)

Cartoon
Z for zebra and zoo
(First: Episode 0281)

Muppets
Zs come out of Herry Monster's mouth as he snores. (part two)
(First: Episode 0307)

Cartoon
Speech Balloon: Z for zipper
(First: Episode 0025)

Film
Sesame Street Animal Films: A widow bird flies from one tree to another.
(First: Episode 0391)

Cast
Bob, Linda and Luis assemble a lowercase h.
(First: Episode 1056)

Muppets
Ernie & Bert — Bert finds it difficult to listen to Pigeons in the News while Ernie and the Sesame Street Citizens' Band are outside practicing. In yet another case of miscommunication between the two, since Bert doesn't like it when they practice outside, Ernie leads the band into the apartment so they can practice inside.
(First: Episode 0982)

Cartoon
Sand Z/z
(First: Episode 0614)

Insert
Oscar orders Michael Christensen and Paul Binder to set up his bowling alley. The two instead start juggling the pins, but struggle to get the sixth one off the ground and into the air.
(First: Episode 1026)




Film
Two glasses are filled with fluid, but one glass overflows as a hand keeps pouring into it. The same thing happens using salt shakers and bowls of nuts. Finally, the glasses are filled again, only one glass barely fills up as fluid is poured into it. The camera pulls out, revealing the glass is filling into another one below, which overflows as before.
(First: Episode 0576)

Animation
Kids narrate a letter 'Z' drawing
(First: Episode 0359)

Insert
Robbie McGrath plays some bluegrass music on his banjo, accompanied by Luis on jug and Bob on mouth harp. Bob and the kids sing along as they play with a limberjack toy.
(First: Episode 0975)

Insert
In voiceover, kids count out twelve in a deck of playing cards.
(First: Episode 0480)

Film
You can't see the wind.
(First: Episode 0774)

Cartoon
H for hola (Spanish soundtrack).
(First: Episode 0362)

Film
Counting 1-20 (planes taking off)
(First: Episode 0798)

Cartoon
"Magic Pig"
Artist: Vince Collins
(First: Episode 0772)

SCENE 3
Big Bird wants to know what Cody will be when he grows up. Buffy isn't sure of that, but Big Bird knows he'll be a bird when he grows up.

Muppets
Ernie & Bert — At the beach, Ernie notices that Bert is missing; all he sees is Bert's hat. Sherlock Hemlock helps find Bert, and in the process, discovers that Ernie accidentally buried Bert under the sand.
(First: Episode 0278)

Cartoon
H for hello (voice of Gary Owens)
(First: Episode 0020)

Film
Empty / full playground (time-lapse)
(First: Episode 0415)

Cartoon
Sign Man: TAXI

Muppets
Sesame Street News Flash: Kermit interviews a servant who tells him that the queen wants to test the maiden by placing a cookie under the mattresses to see if she can feel it. The "princess" (Cookie Monster) lies down, feels something, then devours the mattresses.
(First: Episode 0417)

Cartoon
Sign Sounds: KISS ME

SCENE 4
Mr. Hooper watches Cody play in the sandbox. Ms. Kingsley and her kid join them, and each one assumes they're the other's grandparent at first.

Film
The kids form a triangle and a square.
(First: Episode 0300)

Cartoon
Sign Sounds: WET PAINT

Film
Empty / full subway car (time-lapse)
(First: Episode 0415)

SCENE 5
Mr. Hooper and Ms. Kinglsey take the little ones for a stroll, meeting Buffy along the way. The sponsors are announced.