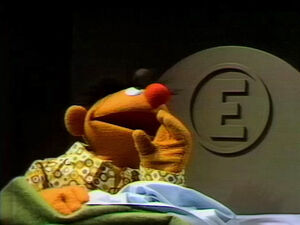 Animation: Two lines agree to go in separate directions. (EKA: Episode 0276)
Children count while playing hopscotch.
Film: A gym instructor helps children perform a variety of stretching and bending exercises. (EKA: Episode 1018)
Ernie & Bert — Bert is reading a book when Ernie startles him by asking if he wants to play checkers. Bert says, "I thought maybe you weren't here!" Ernie starts to search to see if he can find himself. (EKA: Episode 0274)
Buffy sings "Cody, Watching You Grow".
Big Bird wants to go back to Hawaii with Buffy.
Ernie & Bert — Ernie is thirsty, and imagines that he's drinking nice cold water. Irritated, Bert tells him to go get a real glass of water. Ernie does, but then he annoys Bert by saying that now he's hungry. He then imagines himself eating a big peanut butter and banana sandwich. (EKA: Episode 0679)
Buffy and Cody say goodbye to their Sesame Street friends.
Community content is available under
CC-BY-SA
unless otherwise noted.