Sesame Street
David and Oscar's ventriloquist dummies
Air date
March 30, 1978
Season
Season 9 (1977-1978)

Sponsors
J, U, 12

This episode guide has been compiled from script materials provided by a trusted source.

ⓘ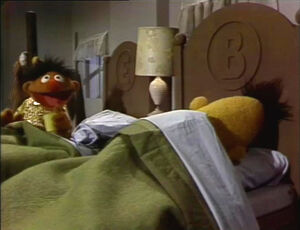 Picture
Segment
Description

SCENE 1
David demonstrates ventriloquism to his friends with Victor the dummy. Oscar gets inspired to do the same, knowing that dummies can say anything and not get in trouble.

Cartoon
A supermarket worker stacks 12 cans, which keep collapsing every time someone grabs one.
(First: Episode 0782)

Film
The Steam Shovel

Cartoon
I am dry, he is wet. (dog washing)
Artist: Cliff Roberts
(First: Episode 0309)

Muppets
Ernie & Bert — Ernie won't stop saying how thirsty he is, no matter how many glasses of water Bert brings him. Even after he's finished, he still won't stop saying "Boy, was I thirsty."

Animation
Henson Films: Number Twelve Rocks
(First: Episode 0195)

Song
Joe Raposo sings "Don't You Know You're Beautiful?" over footage of a girl figure skating.
(First: Episode 0607)

Cartoon
I am dry, he is wet (circus elephant)
Artist: Cliff Roberts
(First: Episode 0309)




Muppets
Big Bird announces that Grover will demonstrate the number 2 by doing two chin-ups. He does it, but then Big Bird asks him to do two more sets, to make sure the audience gets it. When Big Bird thinks they've got it, he announces that Grover will now demonstrate the number 18! Grover faints.
(First: Episode 0547)

Cartoon
A boy needs a letter U to complete the word UP.
(First: Episode 0416)

Celebrity
Arthur Ashe: keep practicing (2:05)
(First: Episode 0969)

Cartoon
A man (voiced by Jack Dodson) describes places that begin with U and what you can do with the letter U.
(First: Episode 0416)

Muppets
Harvey Kneeslapper: Harvey Kneeslapper goes to a man and asks, "Can I take a picture of U?" The man gives him permission, but Harvey tells him that his shoes are untied, and when the man looks down, Harvey slaps the letter U on top of his head and takes a picture of it.
(First: Episode 0468)

Cartoon
The word BUS
(First: Episode 0277)

Film
Bus trip around town (guitar soundtrack)
(First: Episode 0926)

Muppets
An Anything Muppet brings his broken BUS (the word) to a garage for a mechanic to fix up.
(First: Episode 0455)

SCENE 2
Oscar opens a package from the Grouch Novelty Co., containing a Grouch ventriloquist dummy, named "Crummy".

Cartoon
Speech Balloon: U for Umbrella
(First: Episode 0038)

Muppets
Sesame Street News Flash: The Pied Piper has trouble luring mice with his music, but Kermit the Frog lures them by whistling.
(First: Episode 0519)

Cast
Bob, dressed as a clown, sounds out the word ENTER by grouping two doors together.
(First: Episode 0939)

Song
"Here Come the Beans"
(First: Episode 0537)

SCENE 3
Oscar calls Olivia's attention, and has Crummy tell her to get lost. She isn't fooled; she knows Oscar said it. Maria, David and Gordon also come by, and Oscar gives them a preview of the act he's going to perform with Crummy at the Grouch Club Smoker. Needless to say, he drives them away.

Muppets
An Anything Muppet boy and girl have a conversation using the letters of the alphabet.
(First: Episode 0273)

Cartoon
A dog learns about U.
Artist: John Paratore
(First: Episode 0131)

Muppets
"Sing After Me" by Grover and Madeline Kahn
(First: Episode 1112)

Cartoon
Shorty reaches a water fountain with a stool.
(First: Episode 0954)

Muppets
Outside his castle, The Count asks The Countess Natasha to marry him. He counts her replies, all of which are "no."
(First: Episode 1015)

Cartoon
Consonant Sound: J, jaguar

SCENE 4
Oscar and Crummy play an "AT" word-blending game with the kids.

Cartoon
An elephant and a bear try to cross a bridge to deliver their packages, but they're in each other's way.
Voices: Hal Smith
(First: Episode 0538)

Muppets
Cookie Monster is about to eat a cookie, when a sad-looking girl approaches and stares at him. He tries to eat the cookie, but can't do it. He breaks the cookie in half and shares the cookie with the girl. He eats his half of the cookie. When the girl eats her half, she eats it just like Cookie Monster.
(First: Episode 0623)

Cartoon
Jughead Jones's J story
(First: Episode 0231)

Film
A garfish swims around.
(First: Episode 0254)

Cartoon
The letter J
Artists: John and Faith Hubley
(First: Episode 0133)

Muppets
Ernie & Bert — Bert tells Ernie to put away his toys, and Ernie devises a system of arranging them. Unfortunately, all the categories he names apply only to his toy fire engine.
(First: Episode 0281)

Animation
Sand J/j
(First: Episode 0631)

SCENE 5
At night, Oscar and Crummy argue with each other, keeping the neighbors awake. The sponsors are announced.