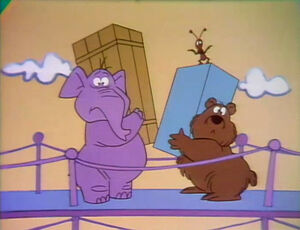 Ernie & Bert — Ernie won't stop saying how thirsty he is, no matter how many glasses of water Bert brings him. Even after he's finished, he still won't stop: "Boy, was I thirsty."
Arthur Ashe explains how practice made him a better tennis player.
Oscar practices ventriloquism with "Crummy the Dummy".
Film: Kids pick green beans in the field. Later their mom cooks the beans, and they eat them. (EKA: Episode 0995)
Oscar practices ventriloquism with his dummy.
Cartoon: A little boy tries to drink from a tall water fountain. (EKA: Episode 1056)
Oscar and his dummy say the words "at", "bat", and "mat".
Cartoon: An elephant and a bear try to cross a bridge to deliver their packages, but they're in each other's way. (EKA: Episode 0834)
Cookie Monster: Cookie Monster is about to eat a cookie when a sad-looking girl approaches and stares at him. He tries to eat the cookie, but can't do it. He breaks the cookie in half and shares the cookie with the girl. He eats his half of the cookie. When the girl eats her half, she eats it just like Cookie Monster. (EKA: Episode 0730)
Ernie & Bert — Bert tells Ernie to put away his toys, and Ernie devises a system of arranging toys. Unfortunately, all the categories he names only apply to his toy fire engine. (First: Episode 0281)
Cartoon: Consonant Sound: J-Jaguar
Oscar argues with his dummy.
Community content is available under
CC-BY-SA
unless otherwise noted.