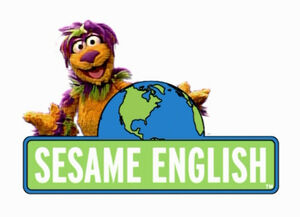 Picture
Segment
Description

SCENE 1
Tingo the Great has Niki volunteer for his magic trick, despite she has homework to do. He places a ball under a cup, shuffles them and asks her to find it. Tingo hesitates to let her win, but does anyway. Niki leaves to do her homework in peace. Tingo the Great then takes credit for making her disappear.

Animation
Can you find the animals hiding? (new voice-overs by John Tartaglia and Kelly Karbacz added)
Artist: Deanna Morse

Film
Kids identify farm animals.

Animation
The letter P is found on buildings.




Insert
Niki and Tingo tango and sing about the letters B and P.

Animation
The letter B in various signs.

Film
People show various things that are big and small.

Insert
Tingo hosts "Big or Small" with contestant Niki. She must choose if she wants the big or little prizes. She gets the lame prizes, such as a plate of carrots and a paperclip. On her last try, she gets a key and is disappointed with the game and leaves the key with Tingo. However, once she's left, Tingo reveals the key was to a new car.

Cartoon
A man (Marty Robinson) has a small octopus on his head, but a little boy (Joey Mazzarino) has a big octopus.
Artist: Mo Willems

Muppets
The Rainbow Fish counts groups of 8 in the ocean.

Animation
Counting 8 harvesters

SCENE 2
The Great Tingo is ready for another trick and pulls Niki back as his assistant. He places a toy big in his hat, puts it on his head, does a magic dance and asks her where it is. Niki points out it's on his head.
Releases
Community content is available under
CC-BY-SA
unless otherwise noted.