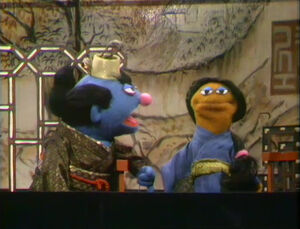 Japanese Stories: Japan is being victimized by an evil emperor, who boasts that he will relinquish his post to anyone who shows him something unique. Villagers bring flowers, fans, and hats, identical to those owned by the emperor, but a young girl is able to prove that she herself is different from anything else. (EKA: Episode 0346)
Animation: a small frog is jealous of how big an ox is, so he expands himself into a very large, round frog. He becomes so self-important and big he ends up exploding. (EKA: Episode 1089)
Film: A dented car door is repaired and re-painted at an auto body shop.
Maria helps Olivia repair a bicycle during her lunch break.
Cartoon: Rorschach ink blob association with a funky jazz soundtrack.
Film: Footage of an animal auction, where they auction off animals to dairy farmers and the like. (EKA: Episode 1085)
Maria recites names beginning with the letter "L".