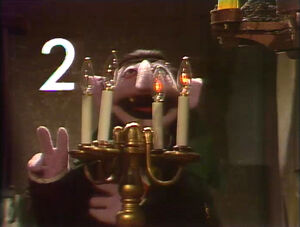 Mr. Ortiz and Mr. Hooper sample each other's dinner.
Cartoon: A man tries to figure out the difference between drinking glasses and eyeglasses. (EKA: Episode 1014)
Cartoon: "A Loaf of Bread, a Container of Milk, and a stick of Butter" -- A little girl remembers what to buy at the store by visualizing her mother giving the instructions. (Artist: Jim Simon) (First: Episode 0408)
Grover watches the Amazing Mumford practice a trick, making a rabbit come out of his hat. Mumford has trouble getting a rabbit to come out of the hat, and both are oblivious to the fact that Grover has turned into a rabbit. (First: Episode 0407)
Mr. Hooper and Mr. Ortiz teach each other English and Spanish words so they can communicate better.
Song: "Everybody's Different"
Mr. Ortiz gives Mr. Hooper a new apron as a thank you gift.
Count von Count: The Count extinguishes electric candles by counting them with his finger. As he heads up the stairs for bed, he steps on Fatatita. He also tells his wolf Yuba to run and play with his friends. (First: Episode 0545)
Mr. Hooper wears his new apron.