Sesame Street
Plot
At the New Mexico ranch, Big Bird misses Mr. Snuffleupagus.
repeat of 0813
Air date
April 26, 1978
Season
Season 9 (1977-1978)
Sponsors
F, M, 8

This episode guide has been compiled from materials at the CTW Archives.

ⓘ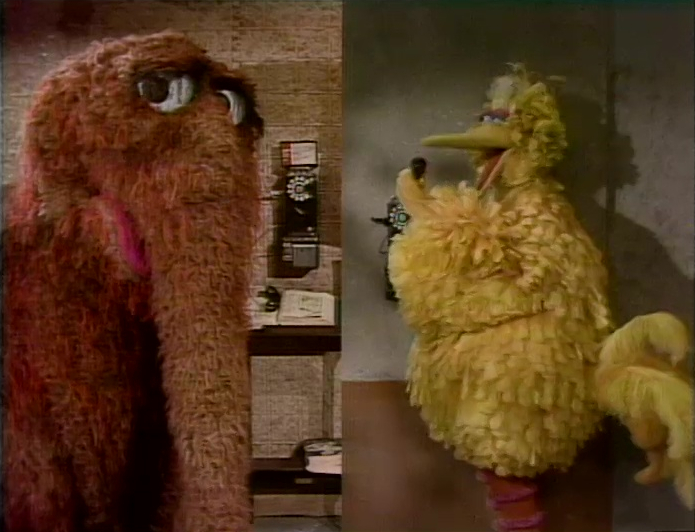 Picture
Segment
Description




SCENE 1
Excited by his experiences in New Mexico so far, Big Bird has saddled up some horses and is sitting on a cart. "Well, howdy-doody there, buckaroos!" he cries. "It's your old sidekick, Buffalo Bird -- the rootinest, tootinest cowbird west of the Harlem. Yee haw! Yes, sir. I just got out this old buckbore here, cause I'm gonna mosey on down to the ol' lariat, and corral myself a bulldog. I'll round up a herd of them critters before it's time to hitch up to the ol' chuck wagon and put on the feedbag. Why, when it comes to ridin', ropin' or ranchin', you gotta go a fur piece to out-buffalo Buffalo Bird!" Big Bird urges on his horses: "Henry! Jerry! Giddyup now!" The horses take off... but Big Bird forgot to attach them to the cart, so they walk off without him. "I knew I'd forgotten something," he sighs.

Video
Scanimate kids intro
(First: Episode 0798)

Muppets
On a very slow day of counting, The Count plays some funky music that is irresistible to dance to. He then counts 6 dancing children that come by.
(First: Episode 0868)

Film
The watch repairman

SCENE 2
Luis shows Gordon how to milk a cow. Gordon gives it a try.

Muppets
"The Ten Commandments of Health"
(First: Episode 1139)

Song
Marilyn Sokol sings "Pockets" over a montage of different types of pockets.
(First: Episode 0764)

Animation
Two small stripes watch as two circles play with each other. The stripes try to bend themselves into circles, but soon find that they can both cooperate to make one big circle.
(EKA: Episode 0829)

Muppets
Same Sound Brown shows Farley that "That's What Reading's All About."
(EKA: Episode 1115)

SCENE 3
Gordon writes a postcard to Susan; Maria says that she misses David too. Big Bird tells them that he misses his best friend, Mr. Snuffleupagus. Gordon says that Big Bird can't miss an imaginary friend. Left alone, Big Bird sings a song, affirming that he misses Snuffy, whether he's make-believe or not ("My Imaginary Friend").

Song
"There's a Bird On Me" (Joe Raposo)
(First: Episode 0416)




SCENE 4
Big Bird makes a long-distance call to Hooper's Store, and asks Mr. Hooper if he can talk to Mr. Snuffleupagus. Mr. Hooper says that Mr. Snuffleupagus is imaginary, but Big Bird insists that Hooper go and look for him at his nest. While Hooper's gone, Snuffy walks into the store and notices that the phone is off the hook. Big Bird and Snuffy get a minute to talk about how much they miss each other. Snuffy goes to take his nap -- and when Mr. Hooper comes back, Big Bird thanks him for letting him talk to Snuffy. Mr. Hooper is baffled.

Film
A behind-the-scenes look of Paul Simon recording "Bingo" with his son, and the manufacturing of the record it will be on.
(EKA: Episode 1133)

Film
Kids identify squash in close-ups.
(First: Episode 0368)

Cartoon
Sign Cartoon: STOP.
After the man reads the sign, two cars screech to a stop, one on each side of him.

Film
Close-ups of a tomato are shown, as kids try to guess what it is.




SCENE 5
Maria and Luis are eating tacos with hot chili peppers. Oscar says that he'd like to try one. Maria and Luis say that he won't like them; they're too hot. Oscar insists that Grouches don't mind eating hot food; it won't affect him at all. He eats a chili pepper, and pretends that he doesn't find it hot at all. Teasing him, Maria feeds him one pepper after another. Finally, he escapes into his trash can -- and moments later, the can erupts in a cloud of steam as Oscar yelps.

Song
"Starfish"
(EKA: Episode 0280)




SCENE 6
Luis walks through his old childhood haunts, singing a sentimental song about his memories of this special place.

SCENE 7
Kids ride a burro as Gordon announces the sponsors.

The story of the New Mexico trip continues in Episode 1164.
Known edits
Picture
Segment
Description

Cartoon
M for Moon
Artist: Jeff Hale

Cartoon
Sign Cartoon: OINK.
A pig comes up, wanting to share in good laugh with the man.