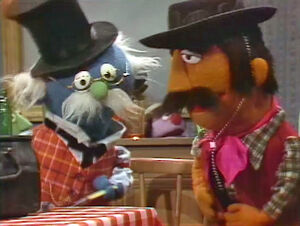 The cast returns from their trip to New Mexico, and they're welcomed back by their friends.
Ernie & Bert — Ernie is planning to go to the library, when he hears on the radio that it might rain. So he gets out his umbrella, and puts on his raincoat, rain hat, and galoshes. Then, in case it floods, he takes a bag of groceries and a life preserver. Finally, he makes Bert go to the library with him, so he won't be stranded in the flood without him. (EKA: Episode 1148)
Film: The Flashettes girls' track team trains for an upcoming race. (EKA: Episode 1151)
Everybody wants something from David while he's working at Hooper's Store -- and he's so busy, he doesn't have time to help everyone. His friends decide to cooperate and help him out.
Old West: The town doctor ("Doc") comes to a saloon to meet Mean Manny and his gang, even though Manny is the toughest guy in town and plans to have a "shootin' party." Manny and his posse arrive on time and meet with Doc and his medicine...he gives them all measle shots.
Animation: A lollipop finds its place next to another lollipop. (EKA: Episode 0838)
Big Bird tries to stop Bob from going to mail some letters by telling him all the bad things that might happen while he's going to the mailbox.
Sesame Street Animal Films: Iguanas ("La Iguana Tan Fea") (EKA: Episode 0815)
Ernie has two slices of apple pie. He takes the big piece and gives Bert the small piece. Bert takes offense to this, saying that he would have given Ernie the big piece and kept the small piece for himself - but the outcome is the same, so what's Bert angry about?
Big Bird wants to know what he's best at, and he asks Mr. Snuffleupagus for help. After considering counting, reciting the alphabet and skating, Snuffleupagus tells Big Bird that he's best at being his best friend.