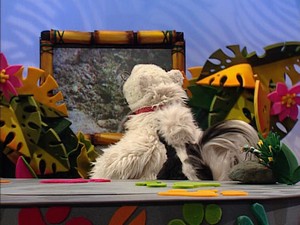 Stinky tries to be ferocious.
Segments
Opening
That's Amazing: The bite of the pirahna
Guest: Jared the Tiger from India and China
Baby Talk: Bugs play tag, then hide-and-seek
Song: Insect Rock
Tizzy's Quiz: How many kinds of beetles are there?
Yves St. La Roache: the food chain, but Yves finds that in every one of his examples, a cockroach is always eaten
Guest: Nippy the Tiger Beetle from the heathlands of Europe
Song: Nippy sings The Mean Machine
Animal Awards: most ferocious animal for their size
Story: A caterpillar becomes a butterfly
Habitat Time: Indian forest
Tizzy's Quiz: Which has bigger teeth--an elephant, or a tiger?
Closing
Performers
Releases
Community content is available under
CC-BY-SA
unless otherwise noted.