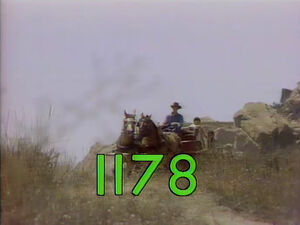 Picture
Segment
Description

SCENE 1
Bob sings "I'm Going Somewhere."

Cartoon
Train #2
(First: Episode 0353)

Film
Doll House
(First: Episode 0131)

Celebrity
Pat Paulsen demonstrates the different between a full and an empty wastebasket.
(First: Episode 0081)

Muppets
Sesame Street News Flash: Humpty Dumpty has fallen off a wall, and Kermit interviews one of the king's horses. Humpty is put together again, but then Kermit gives him a congratulatory slap on the back, and he falls off the wall again.
(First: Episode 0657)

Cartoon
A race announcer doubles as the man who holds up the START and STOP sign.
(First: Episode 0623)

Muppets
Muppet & Kid Moment — Michelle teaches Herry Monster how to say the name of several body parts in Spanish.
(First: Episode 1052)

Film
"Listen ..." to various sounds, including the ocean, a heart beating, a clock ticking, a horse galloping, crickets chirping, a passing train, and others.
(First: Episode 0951)

Muppets
"Sammy the Snake"
(First: Episode 0278)

Cartoon
S is for snow, Santa, and sleigh.
(First: Episode 0134)

Celebrity
Victor Borge explains that the keys on a piano aren't perfectly white because the elephant whose tusks were used to make them didn't brush after each meal.

Video
Scanimate kids intro
(First: Episode 0798)

SCENE 2
Big Bird demonstrates empty and full by showing that his nest is empty. While he turns away to demonstrate with a bowl of fruit and a glass of milk, Bob and the kids have quietly gathered in his nest, making it full.

Film
In a gymnasium, a teacher and some kids play catch with a balloon.
(First: Episode 1088)

Muppets
Muppet & Kid Moment — Cookie Monster and Jason identify the letter S, for shoe.
(First: Episode 1158)

Cartoon
S for sing
(First: Episode 0824)

Song
"Cow Dog Song"
(First: Episode 0783)

Celebrity
Madeline Kahn (in limbo) comments on the previous segment. "Well, that's really a hard working dog. I wonder what he gets paid."
(First: Episode 1110)

Cartoon
Children describe how to draw an elephant.
(First: Episode 0052)




Insert
Child voiceovers declare the street wastebasket is empty. The adults and Big Bird toss their trash into it, making it full. After a garbage man (Richard Hunt, making a cameo) collects its contents, the kids announce that it is now empty.
(First: Episode 0854)

Cartoon
A boy is drawn, but he doesn't have knees at first.
(First: Episode 0954)

Film
Kids narrate a tortilla contest in English and Spanish.
(First: Episode 0456)

Cartoon
Stop-motion NUTS
Muppets
Visual Thinking: A hipster and a square imagine shapes.
(First: Episode 0361)

Cartoon
A dog pulls its master, who keeps begging "STOP!" until they reach the word STOP.
(First: Episode 0706)

Song
"Watch the Dance": A calypso singer points out the body parts of a dancer.
(First: Episode 0654)

Cartoon
Thelma Thumb: Thelma looks for a pair of binoculars that Cyrus has lost.
Artist: John Korty

Celebrity
Paul Simon plays "Me and Julio Down by the Schoolyard."
(First: Episode 1050)




Muppets
Grover is going to teach the audience about "surprise" by sneaking up on Ernie. He sees Ernie sitting in his chair -- and he knows that it's Ernie, because he can see Ernie's shirt and Ernie's hair. Grover sneaks up to surprise Ernie -- but then it turns out to be Herry Monster, disguised as Ernie.
(First: Episode 0183)

Cartoon
Two men work at a manhole; one is tired of the same day-in-day-out routine of it. The other says the boss has planned a surprise for them. A jack-in-the-box pops from the manhole.
(First: Episode 0780)




SCENE 3
Olivia's friend Alice has a job interview, so Olivia is going to watch Alice's daughter Georgiana while she's busy. After her mother leaves, Georgie cries at Olivia and Bob's suggestions, but when Oscar the Grouch emerges from his can to observe the commotion, he defends her right to be left alone with her crummy old blanket. Georgie calms down in Oscar's presence and says she wants to spend time with him.

Muppets
Ernie & Bert — Bert asks Ernie to share a banana with him. Ernie gets the inside of the banana, and gives Bert the peel.
(First: Episode 0464)

Cartoon
Typewriter: S for spring
(First: Episode 0792)

Film
Kids identify pairs of animals in a zoo.
(First: Episode 0364)

Cartoon
Bolt and Nut show how they work together.
(First: Episode 0569)

Muppets
Grover volunteers to assist the Amazing Mumford in his rhyming magic trick, making three things come out of his hat that rhyme with "knee". Grover guesses the first one (key), but doesn't get the last two (ski and tree) right.
(First: Episode 0455)

Cartoon
A troll draws different faces on herself in front of a mirror.
(First: Episode 0800)

SCENE 4
Oscar's been playing with Georgie all day; Bob and Olivia never thought they'd see Oscar play peek-a-boo with anyone. Oscar comments that he hates peek-a-boo, but he had no other way to get close to Georgie's beautiful yet rotten old blanket.

Cartoon
R is for Rooster, and Robber, and Rake ...
Artist: Fred Calvert
(First: Episode 0011)

Cast
Maria and David find two sets of sacks, which have incorrect numerical labels.
(First: Episode 0505)

Cartoon
A man tries to figure out where a squeaky sound is coming from; it turns out to be a giant's squeaky shoes. "Surprise!"
(First: Episode 0770)

Cartoon
Speech Balloon: R - rabbit
(First: Episode 0014)

Film
Body parts song sung in Spanish.
(First: Episode 1113)

SCENE 5
Alice returns from her job interview; it's time for Georgie to go home now, but she doesn't want to leave Oscar. When she won't stop crying, Olivia tells Oscar the only way to make her stop is to invite her back to play again. He reluctantly does so, and gets a kiss from Georgie. He's disgusted even more when Olivia suggests the two of them go into the babysitting business together.