Fozzie gets stuck in a magician's trick cabinet. The cabinet is dragged onstage so that he can perform his act -- and at the end of the act, two pig stagehands tip the box over so he can take a bow. Crazy Harry, who makes frequent appearances (and frequent explosions) during the show, blows up the cage before the end of the show so that Fozzie can escape.
Songs/Sketches
Episode
| Picture | Description |
| --- | --- |
| | "The Muppet Show Theme": The Green Frackle whacks Gonzo with his own mallet. |
| | A Two-Headed Singer croons "Jump Shout Boogie" while some Whatnots "jump, shout and knock [themselves] out." Mid-way through the song, Ben Vereen appears and dances. |
| | Waldorf claims the show is starting to "grab him", when a pair of fuzzy hands grab him and drag him under his seat. |
| | Backstage, Fozzie Bear finds Marvel the Magician's magic box and enters inside, despite Kermit's warnings. The door shuts and since it's a trick box, he's stuck inside. Marvel can't help; he's in Toledo! |
| | Kermit tries introducing Ben's next number, but Crazy Harry sets off two explosions in the balcony and presents him with a "short fuse." |
| | Ben sings "Mr. Cellophane" and plays the titular, unseen character. |
| | Kermit tries breaking Fozzie out with a hammer, but to no avail. Fozzie feels bad that the show is now ruined, since the show will have to be canceled if he can't do his act. Kermit offers an alternative: replace Fozzie. He doesn't take the news well. |
| | Muppet News Flash: The Newsman reports on Mr. Cosgrove, who tried breaking the world record in flagpole-sitting, passing away in the process. His wife announces she will fly him at half-mast for 10 days in memorial. |
| | At the Dance: The Rolling Stones visit the ballroom. |
| | UK Spot: Rowlf plays "Für Elise" (hurting his hands on the keyboard). |
| | Talk Spot: Kermit talks with Ben about dancing. Ben explains he needs to dance with great explosive power. Crazy Harry hears his cue word and sets off an explosion that sends Ben up to the rafters. |
| | Waldorf says it's time for a tea break. Statler complies by knocking the tea cup off the ledge. |
| | Fozzie tries to convince Kermit the show needs him. He says "A Muppet Show without Fozzie Bear is like Gilbert without Sullivan, ham without cheese, Poca without Hontas." Kermit asks what a "poca" is when Miss Piggy and George the Janitor dance to polka music. |
| | Veterinarian's Hospital: George reluctantly visits the operating room to help with his cold sweat. |
| | Talking Houses: One house tells the other of his uncle's fondness for poet Edgar Guest; he's a Guest house! |
| | Blackout: Ben tells Hilda he's getting a big charge from the show, cuing Crazy Harry again... |
| | Wayne sings a line of "I'll Know", until another lady captures his eye. |
| | Hilda tries comforting Fozzie, but ends up shutting the door he peeps out from. Kermit then tells Fozzie he can go on after all. |
| | Fozzie does his act from inside the box, with the help of two pigs who wheel him in and out (and help with his bow). |
| | Ben cheers up Droop by singing "Pure Imagination" and is soon surrounded by some bizarre creatures. |
| | Fozzie is finally freed from the box with Crazy Harry's help, who begins setting more explosions off. |
Notes
Edits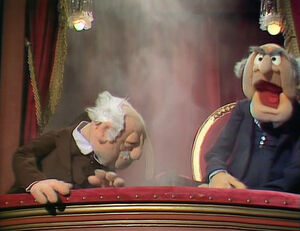 On Nickelodeon, Muppet News Flash was cut.
Statler's reaction to his pants being on fire in the epilogue was not included in the original US broadcasts of the episode. The scene was intact in UK and international airings, and on the season one DVD set (as noted in the DVD's Muppet Morsels). Disney+ cut Statler's reaction shot as well.
Cast
Muppets:
Kermit the Frog, Miss Piggy, Fozzie Bear, Gonzo, Scooter, Rowlf the Dog, Statler and Waldorf, Crazy Harry, Two-Headed Singer, The Newsman, George the Janitor, Mildred Huxtetter, Zoot, Janice, Trumpet Girl, The Shouting Lady, Herman, The Houses, Hilda, Sam the Eagle, Wayne, Wanda, Droop, The Muppaphone, Pigs, Whatnots
Background Muppets:
Performers
Gallery
External links