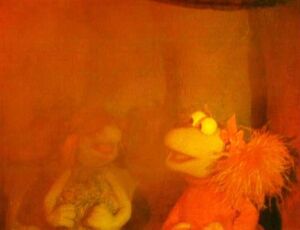 While the rest of the Fraggles prepare for Boober's surprise birthday party, Red is stuck taking Boober on an adventure hike to the Spiral Caverns. She hates having to spend time with the overly negative Boober, but they learn a lot about each other when they're trapped in a cave-in.
Meanwhile, Doc orders a Mr. Meow catnip during a blizzard and plans to find a way to convert it into "dog nip" for Sprocket. When the blizzard gets worse, Sprocket ends up having Doc let Fluffinella in.
Fraggle Facts
Notes
International versions
In the UK version, the Captain and Sprocket are snowed in, and Sprocket refuses to let Fluffinella into the lighthouse for shelter. Uncle Matt encounters the "lair of the long red giants" (double decker buses).
Supporting cast
Songs
Video releases
International episode titles
Community content is available under
CC-BY-SA
unless otherwise noted.