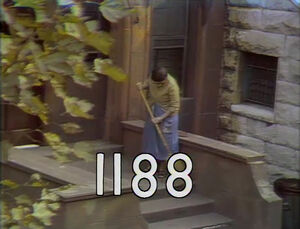 Picture
Segment
Description

COLD OPEN
10th Season Intro Still

SCENE 1
At the crack of dawn, Olivia sings about how she's "Out with the Morning."

Cartoon
The profile of a man's face morphs into different faces to the sounds of a Moog synthesizer.
Artist: Etienne Delessert
(First: Episode 0642)

Insert
The Alphabet Dancers form the letter T.
(First: Episode 0454)

Animation
Sand T/t
(First: Episode 0636)

Muppets
Baby Breeze participates in Headball at Roosevelt Franklin Stadium. His question: what would you do if your ball rolled into the street?
(First: Episode 0877)

Cartoon
A photographer tries to look for some animals quietly, but they all end up secretly following him.
(First: Episode 0799)

Film
The letter T is a very useful letter.
(First: Episode 0402)

Celebrity
Edith Ann talks about the time she made a sandwich.
(First: Episode 0890)

Film
Joe Raposo counts 20 antique cars.
(First: Episode 0410)

Film
T is for toes.
(First: Episode 0506)

Video
Scanimate kids intro
(First: Episode 0798)

SCENE 2
Professor Grover teaches Luis, Mr. Hooper, and some children how to breathe.

Film
In a gymnasium, a teacher and some kids play catch with a balloon.
(First: Episode 1088)

Cartoon
The Typewriter has an electric train.
(First: Episode 0785)

Film
A giant panda walks around.
(First: Episode 0920)

Cartoon
T for typewriter and toe
Artist: John Korty
(First: Episode 0506)

Muppets
Grover is astonished to find that he's multiplied into four Grovers.
(First: Episode 0718)

Cartoon
T es para telefono
(First: Episode 0362)

Film
A mailman on horseback delivers mail in the Appalachian mountains of Kentucky.
(First: Episode 0493)

Cartoon
A man rearranges a LIMK sign to make the word "MILK".
(First: Episode 1116)

Insert
Bob is surprised to find Oscar holding a Grouchketeer meeting in Chinatown in an effort to spread grouchiness around the city.

Cartoon
Donnie Budd counts four lions.
Artist: Bud Luckey
(First: Episode 0300)




Cast
David, alone on a desert island, finds a bottle with a genie (Maria) inside it, and wishes for a boat. But Maria keeps mishearing the request and instead gives him a coat and a (live) goat. Finally she gives him a boat ... but it's not the kind of boat he was hoping for.
(First: Episode 0499)

Cartoon
A man explains the letter R with a radio. Once he starts singing, the radio decides to turn him off by tweaking his nose.
(First: Episode 0011)

Film
Marching Band #4
(EKA: Episode 0529)

Animation
4 people, 4 wheels, 4 doors, and 4 windows make a carpool.
(First: Episode 0910)

Muppets
Muppet & Kid Moment — Grover learns what Kate wants to be when she grows up.
(First: Episode 0783)

Cartoon
The word entrada tries to run through a wall, then runs through the entrance.
(First: Episode 0939)

SCENE 3
Cookie Monster has made his piggy bank into a "cookie bank" to save cookies for "a rainy day." After Mr. Hooper provides him with three cookies, signs of an incoming rainstorm occur outside and Cookie consumes his bank.

Cartoon
He, She and It: The IT explains how a scale works.
(First: Episode 1171)

Muppets
Biff asks Sully to recite the alphabet, but recites the whole thing without giving him a chance to speak.
(First: Episode 0873)

Film
This is the desert.
Music: Joe Raposo
(First: Episode 0514)

Cast
"David the Daring" does his famous forwards and backwards trick.
(First: Episode 0439)

Cartoon
Two kids find different uses for a cooking pot.
(First: Episode 0795)

Muppets
Ernie & Bert — Ernie says that he has "flying fingers," and tries to find ten different things that his fingers can do.
(First: Episode 0617)

SCENE 4
The rain begins and Grover wonders what happens if he stays out in the rain. It eventually dawns on him that he will get very wet.

Film
A figure skater illustrates forward and backward.
(First: Episode 0500)

Cartoon
R is for Rooster, and Robber, and Rake ...
Artist: Fred Calvert
(First: Episode 0011)

Muppets
Sesame Street News Flash
Kermit stands by a grandfather clock waiting for a mouse to run up it, acting out "Hickory Dickory Dock". Gladys the Cow and a duck show up instead. Finally, a horse comes in and explains that the mouse can't make it. The horse runs through the clock, breaking it.
(First: Episode 0710)

Transition
Bridge #14 - Hour Glass Slow/Fill
(First: Episode 0303)

Film
An osprey flies around.
Music: Joe Raposo
(First: Episode 0293)

SCENE 5
Grover has found out something else that happens when one stands out in the rain - a friend (Mr. Hooper) dries you off with a towel.
Community content is available under
CC-BY-SA
unless otherwise noted.