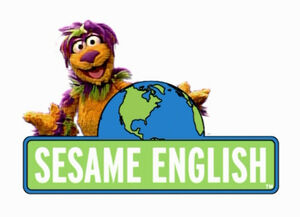 Picture
Segment
Description

SCENE 1
Tingo decides to make soup, based on his mother's recipe. He puts in unchopped onions, tomatoes, carrots, and broccoli.

Insert
Celina dances in a broccoli costume, in front of the Furry Arms Hotel. (Chicago's voice-over replaced with Tingo)

SCENE 2
Tingo adds pepper to the soup, to make it spicy. He then notes that spicy is another word for hot. He adds ten grinds of spices, then another ten, counting extremely fast. He tries desperately to get water, but nothing comes out of the tap. He then notices a plumber under the sink, who says the pipes are broken, thus "no water". She then repeats what's in the soup.

SCENE 2 cont'd
Tingo, broccoli, and a tomato sing, "There's no water? No water. I want to drink a glass of water, 1-2-3-4-5-6, maybe more."

Film
Kids play in water, and drink water from outside fountains and piping. The soundtrack is rock music, with the phrases "cold water", "I'm thirsty", and "excuse me".

SCENE 4
Tingo sees the plumber again, and asks if the water is back. The plumber says, "Sorry." Inspired by an orange he sees, Tingo drinks a whole carton of orange juice.

Cartoon
Orange, orange juice, orange ice-it, orange slices, orange.

Animation
Characters on a quilt form the letter O.
Artist: Karen Aqua

Animation
Fans reveal the letter O.

SCENE 5
Niki comes home, and gets excited when she sees the vegetable soup. She looks at the ingredients, and names them. She adds ten grinds of spice, then another ten, plus an eleventh. She too desperately runs to the sink for water, but the plumber says there's no water. She sees an orange, and looks for orange juice.

Film
A gymnast twirls ribbons to form the letter O.

Cartoon
A little boy tries to use a tall water fountain.

SCENE 6
Niki desperately searches for orange juice and water, as she and Tingo ask each other, "How can we get some water?" The plumber restarts the tap. She notices the soup, and decides to add eleven grinds of pepper. She is delighted at the taste, and says "Let's eat!" to a repulsed Niki and Tingo.
Cast
Releases
Community content is available under
CC-BY-SA
unless otherwise noted.