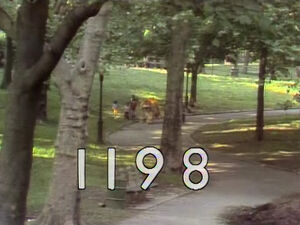 Picture
Segment
Description

COLD OPEN
10th Season Intro Still

SCENE 1
Bert wants to show off Brad's new baby tooth, but despite encouragement from his uncle, he won't open his mouth. Maria tries to make him smile and David tries to make him laugh, but he doesn't open up until he repeats Bert saying "tooth". Bert is excited to see that not only does he now have two teeth, but he's learned a new word.

Cartoon
E for Elephant & Elk, the nominees for best E animal.
(First: Episode 0486)

Muppets
"The Ten Commandments of Health"
(First: Episode 1139)

Film
Joe Raposo sings "Look at This" over footage of something ... can you guess what it is?
(First: Episode 0514)

Cartoon
A man saws a letter E through the wall.
(First: Episode 0370)

Muppets
Anything Muppets (including Farley) shout "E!"
(First: Episode 0408)

Cartoon
Imagination E
(First: Episode 0001)

Muppets
Ernie & Bert — Ernie has two slices of apple pie. He takes the big piece, and gives Bert the small piece. Bert takes offense to this, saying that he would have given Ernie the big piece and kept the small piece for himself - but the outcome is the same, so what's Bert angry about?
(First: Episode 1166)

Cartoon
A man explains that the letter E begins both Enter and Exit. Another man named Roy runs through the doors.
(First: Episode 0406)

Video
Scanimate kids intro
(First: Episode 0798)

Video
Four children roll on a gym mat while The Count counts them (in voice-over).
(First: Episode 0908)

Cartoon
E for Eel
(First: Episode 0408)

Muppets
Sesame Street News Flash: Kermit the Frog helps Don Music finish the "Yankee Doodle" song, then because Don finds the idea of calling feathers macaroni ridiculous, they rewrite it to be a song in which Yankee Doodle stays at home cooking for his pony, puts "fat spaghetti" in a pot and calls it macaroni. Little Chrissy and the Alphabeats then come in and perform the song with Don.
(First: Episode 0876)

Cartoon
The Typewriter: E-Ear
(First: Episode 0807)

Film
A boy goes to the dentist and gets his teeth cleaned.
Music: Joe Raposo
(First: Episode 0476)

Cartoon
A baby cries whenever he gets a beso.
(First: Episode 0433)

SCENE 2
Big Bird plays Red Light/Green Light with the Kids in front of Engine Company 74.

Cartoon
A mad scientist (voiced by Daws Butler) teaches his monster how to say the words "Fred," "foot", and "Friday."
(First: Episode 1162)

Film
Sesame Street Animal Films: Lobster and crab.
(First: Episode 0317)

Cartoon
F stands for flower, forest, fox, frog and fantastic.
(First: Episode 1102)

Muppets
Waiter Grover: Hamburger - Mr. Johnson wants a hamburger. The restaurant offers two sizes: the big hamburgers and the small hamburgers. When the small hamburgers are too small, he orders a big one, but because there have been some problems with the big hamburger, Grover tries to convince him to order several small ones.
(First: Episode 0705)

Film
Mad Painter #3
(First: Episode 0343)

Cast
On the rooftop of 123 Sesame Street, Bob sings "Lazy Summer Day" to the kids.

Cartoon
3 song (butterflies, birthday presents, waving pennants etc.)
(First: Episode 0927)

Film
Sesame Street Animal Films: a herd of giraffes move their way through a field.
(First: Episode 0316)

Celebrity
Madeline Kahn thinks giraffes make fine pets for those with high ceilings.
(First: Episode 1139)

Cartoon
A minstrel sings about a fox who outsmarts a crow.
Artist: Etienne Delessert
(First: Episode 0631)

Muppets
Ernie & Bert — Ernie reads a story for Bert that he's written on his typewriter. It turns out to be a dramatic reading of the alphabet.
(First: Episode 1112)

Film
Iguanas
Music: Joe Raposo
(First: Episode 0047)

Cartoon
A rabbit crosses the STREET, and almost gets run over.
Artist: Cathryn Aison
(First: Episode 0778)

Film
A girl meets a blind woman who has a seeing-eye dog.
(First: Episode 0952)

Muppets
Charlie is lost and finds a policeman. It's his Uncle Louie, but he doesn't recognize him in uniform. Without the uniform on, Charlie asks Uncle Louie to find him a policeman.
(First: Episode 0135)




SCENE 3
After the kids help Maria clear out some garbage from the garage in the arbor, they get in line so Bob and David can clean them up before going home. Grover serves as a cleanliness inspector and gets a hug from each of the kids. He loves this game.

Film
Trees are very nice places, for animals and for people.
(First: Episode 0455)

Celebrity
Richie Havens sings "Wonder Child."
(First: Episode 0742)

Cartoon
Number count to 20 (w/ cameo appearance by Cookie Monster), followed by cast list at the end.
(First: Episode 0350)

Film
Time-lapse of seeds growing.
Music: Joe Raposo
(First: Episode 0416)

Cartoon
Sign Sounds: BAD DOG
After the man reads the sign, a dog comes in and protests, "I'm not a bad dog! What did I do? What did I do?"
(First: Episode 1164)

SCENE 4
Big Bird walks up to Bert reciting the story of The Three Little Pigs (but with pigeons) to Brad and asks what's up. Bert informs him of the tooth situation, and Brad opens his mouth to reveal three teeth now. Bert shouts up and down the street for everyone to come see this new development.