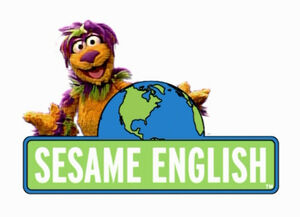 Picture
Segment
Description




SCENE 1
Chef Gene arrives at Niki's door, asking if she or Tingo have seen his missing chicken. Neither of them have a clue, when the hear clucking coming from within the room. They start searching and don't notice Gene's chicken pass through the living room. They do discover an egg on the floor.

Film
EGGS ... and chickens.

SCENE 2
Gene correctly points out the egg belongs to his chicken and they soon find more of them, while Gene's chicken slips by unnoticed.

Muppets
Kermit's Lectures: Kermit counts four eggs. A chick hatches out of one egg, so he counts the three eggs -- then two, then one. Then he counts the four chickens.

SCENE 3
The gang continues to find more and more eggs around the basement, when Gene spots a feather, leading their search into the backyard.

Film
People name the vegetables they have in their garden.

Animation
Computer E / e

SCENE 4
The group finds more and more feathers outside. Tingo has a spill and finds more among the vegetables in the garden.

Film
Three girls clap rhythms while naming vegetables. (shortened and intercut with scenes from the previous film)




SCENE 5
Niki, Gene and Tingo sing as they look around the yard for the chicken. They finally surround it and Gene captures it. Niki and Tingo begin to worry when Gene announces he'll be preparing dinner...

Muppets
Elmo dances and points to the letter E.
Edited from episode 3645 of Sesame Street

Animation
Planet E / e (voice-over re-recorded by John Tartaglia)

SCENE 6
Gene announces dinner is ready and Niki and Tingo nervously approach the kitchen. They see that the chicken is alive and well, and also happens to be a chef! He prepares vegetable soup for everyone and Tingo converses with him in chicken.
Supporting Cast
Community content is available under
CC-BY-SA
unless otherwise noted.