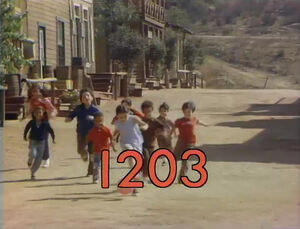 Picture
Segment
Description

COLD OPEN
10th Season Intro Still

SCENE 1
Big Bird finds it odd when he sees Bob waving his hands while listening to music. Maria, David, and Linda explain that he's practicing conducting for a high school music performance tomorrow. They sneak out of Hooper's Store to watch him and give him a round of applause when he's through.

Cartoon
A cleaning lady (reminiscent of Carol Burnett's character) wanders into a music rehearsal room, plays each instrument, and puts all the sounds back into the wrong instruments.
(First: Episode 0774)




Muppets
Guy Smiley hosts the game show "What's My Part?". The contestant is Mr. Nose. The panelists -- Bennett Snerf, Arlene Frantic and Cookie Monster -- don't know what a nose is, because none of them have noses.
(First: Episode 0131)

Cartoon / Film
A Scanimate/live-action hybrid segment in which an off-camera child and Luis name words that begin with H.
(First: Episode 0771)

Cartoon
Speech Balloon: H is for hole
(First: Episode 0080)

Film
Some kids observe a woman drawing pictures of a building, and eventually guess that she's an architect.
(First: Episode 0768)

Cartoon
Consonant Sound Limerick: H - Horse
(First: Episode 1167)

Video
Scanimate kids intro
(First: Episode 0798)

SCENE 2
Bob and the kids look for embedded shapes in an image using cut-outs of the shapes.

Muppets
Ernie & Bert — Bert asks Ernie to share a banana with him. Ernie gets the inside of the banana, and gives Bert the peel.
(First: Episode 0464)

Cartoon
Candy Man
Artist: Bud Luckey
(First: Episode 0359)

Muppets
Anything Muppet kids and upside-down 8
(First: Episode 0282)

Film
A gym instructor helps children perform a variety of stretching and bending exercises.
(First: Episode 1018)

Cartoon
Two circles demonstrate "next to" and "away from".
(First: Episode 0644)

Muppets / Cast
Olivia sings about "The People in Your Neighborhood" - the babysitter and photographer.
(First: Episode 1161)

Cartoon
H for hello (voice of Gary Owens)
(First: Episode 0020)

Muppets
Ernie & Bert — Bert complains when a big letter H appears on the TV screen, so Ernie turns off the set, unplugs it, and takes a bunch of H objects out of the TV (including a hat, a house and a hamster). When he plugs it back in, a big letter I appears on the screen. Ernie wants to try fixing the TV again, but Bert tells him not to -- this is a great show.
(First: Episode 0578)

Cartoon
H for hola (Spanish soundtrack).
(First: Episode 0362)

SCENE 3
Oscar learns about the different vegetables Maria carries home from the grocery store. She talks about each kind as she takes them out of the bag, then offers Oscar anything he'd like - he takes the empty paper bag.

Film
Kids pick green beans in the field. Later their mom cooks the beans, and they eat them.
(First: Episode 0944)

Muppets
Little Bird explains "next to". Then Cookie Monster cuddles up next to Little Bird.
(First: Episode 0167)

Cartoon
A girl imagines being next to a tree, a house and a car. "Now I'm going over there," she says. "There's nothing here to be next to!"
(First: Episode 0782)

Film
SALIDA (word spins around)
(First: Episode 0967)

Cartoon
SALIDA (train)
(First: Episode 0537)

Cast
Maria, Susan, Luis, and David put together a fractured letter H.
(First: Episode 0422)

Film
Comparing a boy's skin to animals' fur, feathers, skin, and other coverings.
Music: Joe Raposo
(First: Episode 0108)
Muppets
Sesame Street News Flash: In a take on the "Hey Diddle Diddle" nursery rhyme, Kermit the Frog interviews Natalie the cow and her cat manager as she prepares to jump over the moon. Natalie plans to break the usual cow stereotype by doing this jump. After the cat plays a fanfare on his fiddle, she makes the jump and crash lands back to Earth, where she is praised and congratulated for her jump.
(First: Episode 0634)

SCENE 4
Bob and Linda want to teach David some signs, but he's too busy using his hands to make their sandwiches. When he's ready to learn, the other two are busy eating.

Muppets
Anything Muppets sing "Goin' for a Ride", while traveling in a car, train, and boat.
(First: Episode 0037)

Song
Joe Raposo sings "Everybody Sleeps."
(First: Episode 0406)

Cartoon
K is for kiss.
Animation: John and Faith Hubley
(First: Episode 0131)

SCENE 5
Everyone plays a game in pairs trying to carry a ball in unique ways, such as having it pressed between their chests or in their legs.

Song
Joe Raposo sings "Trying and Trying Again."
(First: Episode 0631)

Muppets
Cookie Monster explains the purpose of the Bus Stop sign, however the bus zooms pasts him. Resulting in Cookie Monster ripping the part of the sign mentioning STOP.
(First: Episode 0192)

Cartoon
An old woman emerges from the pouch of a bouncing kangaroo. She proclaims, "K! Kangaroo!"
(First: Episode 0489)

Film
People jump.
(First: Episode 0774)

Cartoon
"Presenting -- the pencil!"
(First: Episode 0537)

SCENE 6
The ball game continues as Maria announces the sponsors.