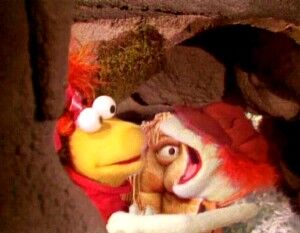 Fraggle Rock is threatened by two invasions -- one from Sprocket, who tries to break through the hole in Doc's workshop, and one from Junior Gorg, who plans to blow up the Fraggles' entrance to the Gorgs' garden with dynamite.
Meanwhile, Doc tries to figure out where he had placed the rent money.
Fraggle Facts
The song "Muck and Goo" is shared by the Fraggles and the Gorgs. In flashbacks, Gobo remembers Uncle Matt singing it to him as a child, and Junior Gorg also remembers Pa Gorg singing it.
This episode also shows that Ma and Pa Gorg hold Fraggle Rock sacred as Kissing Rock, where Gorgs receive their first kiss.
International Versions
UK version: The Captain is building a model Lighthouse and becomes increasingly irritated by Sprocket's constant barking at Gobo. It also doesn't help matters when Sprocket knocks over his Lighthouse and smashes a few plates when hammering the hole bigger.
Songs
International episode titles
Video releases
Community content is available under
CC-BY-SA
unless otherwise noted.