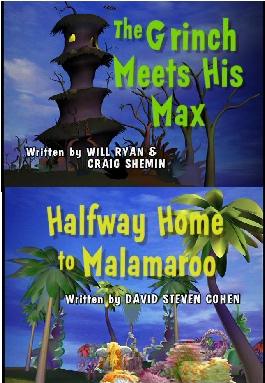 The Cat in the Hat has left Little Cats A, B, and C alone with a nifty storytelling machine (voiced by Alan Kalter).
In "The Grinch Meets His Max," the cats hear the story of how The Grinch and his dog Max came to be friends after they insert a back scratcher.
In "Halfway Home to Malamaroo," the cats are told the story of Alvin (an alien from Malamaroo) after the Cats insert a half-eaten cake. Alvin is as sweet as can be, but he drives Jane Kangaroo, Junior Kangaroo, and Thidwick the Big-Hearted Moose crazy when he never finishes what he starts -- including his trip home!
Songs
Video releases
Storybook adaptations
Community content is available under
CC-BY-SA
unless otherwise noted.