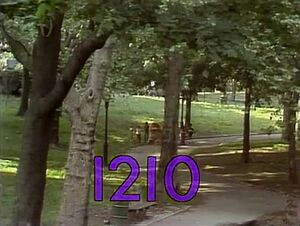 Picture
Segment
Description

COLD OPEN
10th Season Intro Still

SCENE 1
Using some laundry soap boxes, Bob and Linda demonstrate the domino effect to Lloyd and Marika.

Film
Four Song (Song of Four)
(First: Episode 0006)

SCENE 2
Bob and Linda present a harder problem involving a trough, a ball, a brick and a small box.

Cartoon
Elephants have four legs.
(First: Episode 0560)

SCENE 3
Bob and Linda's last challenge involves a lever, a ball, and the force of gravity.

SCENE 3
cont'd
Big Bird has a trick of his own, which involves a flower pot and some cigar boxes (and glue…).

Muppets
Ernie & Bert — Ernie can't sleep, so Bert tells him to count sheep. Ernie tries to count sheep, but it's dull -- so he starts counting fire engines. The noise from the imaginary fire engine wakes Bert up. Bert says that Ernie's waking up the whole neighborhood, and tells him to count something quieter. Ernie counts balloons -- but the balloon gets bigger and bigger, finally bursting with a huge explosion that wakes Bert up again.
(First: Episode 0276)

Cartoon
Various alien creatures perform in an otherworldly music performance conducted by a trumpet-nosed creature.
(First: Episode 1181)

Song
David sings Three of These Things: Three kids riding one seat bicycle, and two kids riding two seat bicycle
(First: Episode 0450)

Cartoon
zip, zoom, zoom, zig, zag, zany, zoo.
(First: Episode 0359)

Film
David narrates some films showing the homes of animals.
(First: Episode 0452)

Cartoon
Z In Space
(First: Episode 0509)

Muppets
"The Zizzy Zoomers"
(First: Episode 0359)

Cartoon
Subtracting three mules
(First: Episode 0767)

SCENE 4
Buffy sings "

Changing Names

" about Cody, who's always calling himself something different.

Film
Joe Raposo counts 20 antique cars.
(First: Episode 0410)

Cartoon
Z for Zebu
Artist: Jeff Hale
(First: Episode 1185)

Cast
Surgeons Maria, David, Susan and Luis "operate" on a motorcycle.
(First: Episode 0484)

Film
As a boy plays with a tugboat in the bathtub, we watch footage of a real tugboat.
(First: Episode 0801)

Muppets
Grover asks The Amazing Mumford if he could make his carrot disappear, provided that some smoke appears. Mumford performs the trick and Grover is impressed by the puff of smoke, however he fails to notice Mumford chomping on his carrot. When Grover asks Mumford to make the carrot reappear, he replies that he can't because he ate it ("You didn't say anything about magic!").

SCENE 5
Big Bird has just written two poems, and reads the first one, about a short time. He then starts reading a long time poem …




Muppets
An Anything Muppet driver arrives at a gas station, hoping to be filled in a short time. Instead, his car takes a long time to fill while the attendant fills other cars in a short time.
(First: Episode 0540)

SCENE 5
cont'd
Big Bird goes on and on and on, reading his long time poem.

Song
Joe Raposo sings "Me."
(First: Episode 0421)

Muppets
Harvey Kneeslapper tells a man that "stickys" are really useful. The man asks, "What's a sticky for?". Then Harvey slaps a number 4 on the man's chest and says, "This is sticky, and it's a four!"
(First: Episode 0668)

Cartoon
Y is for Yo-Yo
(First: Episode 0036)

Film
The Deadly Nightshade star in a story of "Old MacDonald." The three live in a New York City apartment, but when they get fed up with the noise, they relocate to the country. There, they sing "Old MacDonald" and soon get weary of the noisy animals.
(First: Episode 1115)

Cartoon
Two kids argue over a cat and a dog, who chase each other around the fence.

Muppets
Sesame Street News Flash
Kermit the Frog witnesses as Don Music tries to rewrite "Twinkle, Twinkle, Little Star." He succeeds and is joined by a country-western band, who sings "Whistle, Whistle, Little Bird."

Cartoon
A boy talks about his pet letter Y, named Yetta.
(First: Episode 0443)

SCENE 6
Big Bird learns that Cody is going to day care.

Song
Joe Raposo sings "Kangaroo Blues."
(First: Episode 0277)

Cartoon
Sign Sounds: STOP.
After the man reads the sign, two cars screech to a stop, one on each side of him.
(First: Episode 1163)

Film
Mad Painter #4
(First: Episode 0344)

SCENE 7
At the day care center, Susan and Luis play a "body parts" game with the children.

Film
The celebration of Chinese New Year
(First: Episode 0495)

SCENE 8
Buffy brings Cody home from day care, and is welcomed by Bob and Linda. They notice that Big Bird has started his own day care center, and find him reading to a group of eggs!

SCENE 8
cont'd
Bob and Linda announce the sponsors, and the credits roll.




CLOSING SIGNS
Susan holds up the Sesame Street sign, while Gordon holds up the CTW sign at the end.